Emmanuel Sullivan: Congratulations, I understand you are now CEO at W Energy Software. Will you be taking the company in any new directions?
Mark Hill: First, I want to share my gratitude for Pete Waldroop who founded W Energy Software and built such an amazing company. Thanks to Pete's clear vision, W Energy Software was started on a path from day one that has led to market leadership and steady growth. It has been an honor to work side by side with Pete for nearly three years as we expanded our offerings and deepened our commitment to our clients. I look forward to working with Pete in his new role as chairman of W Energy Software's board of directors.
As for new directions, I would say that I hope to amplify and sustain the tremendous momentum that our team has built. We've met with success and rapid growth on all fronts, which has led to a need to manage our business and organization at increasing scale. At the same time, W Energy Software continues to execute and shape its vision for the only modern, end-to-end, SaaS energy enterprise resource planning (ERP). When I joined W Energy Software two years ago as chief revenue officer, my mandate was to position the company for the next stage of growth. Now that we have arrived at this inflection point, my mandate is to fuel that next stage of growth to maintain our high standards for client service while innovating as relentlessly as we always have.
ES: Can you give a quick back story on W Energy Software and summarize its recent growth?
MH: W Energy Software started in 2009 with a single solution for gas plant accounting. But it was more than that from the very beginning. The team had a blueprint for expanding across midstream liquids transportation, storage, marketing and beyond. We have always had a cloud first strategy, building everything from the ground up to take full advantage of the cloud's economy of scale and on-demand computing to continuously position W Energy Software on the forefront of innovation. Combining the power of the cloud and our unified SaaS blueprint, we knew that we could build an energy ERP that encompasses all of the shared accounting, operational and logistical challenges of upstream, too, including land management, division order, revenue and tax. That vision, cloud architecture and flexibility also anticipated challenges on the horizon for managing the energy transition.
Despite two years of pandemic, W Energy Software has doubled our market share and team in the same timeframe. We've seen accelerated growth across upstream – accounting, land, production – and midstream, where we've attained dominant market share for plant accounting and liquids transportation. W Energy Software acquired NeoFirma and Chorus Logistics in the same period, extending our ERP platform with best-in-class field data capture and transportation management. We have disrupted the status quo across the board and will continue to innovate, disrupt and bring choice in areas such as measurement and energy trading.
ES: You mentioned the energy transition. What is your perspective on moving away from hydrocarbon-based energy to renewables?
MH: I think it's not an all or nothing transition, but a transition to a new energy mix where hydrocarbons are still crucial. Even if we replace 100 percent of the energy consumption needs of our society with renewable sources, that still leaves a huge demand just for the hydrocarbon-based materials and synthetics that make our way of life possible. [You] can't build an electric vehicle without a lot of hydrocarbons. And that energy mix will also include nuclear, so it's more about alternative energy than strictly renewable.
Companies in the energy transition share many of the same challenges where skill sets can be redeployed, like land management. Solar farms, wind turbines and geothermal wells generate royalties, too, so no matter where you are in the value chain, you are still probably going to have to track lease obligations and cut checks to interest owners. Then there are new areas of complexity that companies will need to navigate, like managing contracts to buy kilowatt hours. Everywhere in the energy transition companies need software to run their business and our unified approach, where we integrate accounting, land, logistics, operations and regulatory in one unified ERP, is turning out to be just what the market is looking for.
ES: How is W Energy Software adapting to the energy transition? Do you have any clients in power and renewables?
MH: Over the last year, most of the supermajors have made a clear shift into providing a mix of energy sources with leaders still generating more than 90 percent of revenue from hydrocarbon production. It's very similar growth for W Energy Software where, of course, most of our clients are still mainly producing crude oil, natural gas and NGL. But that is rapidly changing.
This last year, W Energy Software started on a journey through the energy transition as our SaaS ERP was selected by leading alternative energy firms to manage wind and solar royalties, biomass-based diesel and electric vehicle charging infrastructure. As demand from the renewable energy and power markets continues to increase, we will keep pace with technology that matches new accounting, operational and logistical complexities. We are evolving the way today's energy professionals work, delivering unprecedented levels of speed, ease of use and accuracy.
ES: What does fueling the next stage of growth entail for W Energy Software?
MH: To meet the technology needs of today and tomorrow, W Energy Software is leaping forward organically by expanding into new markets, domestically and internationally. We are also growing through acquisitions that complement and advance our vision of the only energy-focused ERP built on the cloud that supports companies that extract hydrocarbons, generate energy from alternative sources, and participate in power markets.
W Energy Software recently partnered with True Wind Capital to meet our ambitious goals and fuel the next stage of growth. This is truly about making even more possible. By leveraging the capital and support of our investors, we are beginning an exciting new chapter for W Energy Software where we sustain our industry-leading commitment to innovation and our clients. At the same time, we gain even more momentum that will boldly position W Energy Software as the leader in energy transition enablement.
ES: Is becoming a leader in energy transition enablement a departure from your core markets?
MH: At its core, W Energy Software has always been a leader in managing volumes and volatility wherever they exist in the value chain. Our new capital strategy is enabling us to double down on innovation, not just around hydrocarbons, but for creating the software needed to manage the entire energy mix, renewables and power. Bolstered by investment that matches our growth trajectory, we're going to show the energy industry our full potential and that even more is possible.
With so many changes and rapid growth, I think it's important to let our customers know that one thing will never change, which is our close partnership with the energy industry. Our continued success depends on daily and ongoing conversations with our customers and partners across the energy mix to ensure every voice is heard as W Energy Software executes on our business and technology strategies.
ES: What blockers do you see moving forward through the energy transition and improving ESG?
MH: There is intensifying pressure from Wall Street to drastically reduce or even eliminate hydrocarbon exposure in portfolios. This movement does not square with the reality that our global economy will still run on 100 million barrels of oil equivalent per day for the foreseeable future, ensuring that hydrocarbons continue to move along the energy value chain in increasing volumes. So, how we continue to move oil, natural gas and NGL is one area where the energy transition is challenged – kind of like trying to change a tire while driving a car down the highway.
I think we should be less concerned with shutting in abundant supplies of hydrocarbon-based energy and ensure a free and safe flow. This is even more critical as oil and gas heads into the energy transition, underscoring the need for flexibility, not rigidity, as pipeline projects are abruptly canceled and approval for new projects is drawn out in the court of public opinion. Ironically, pipelines represent the fastest and safest mode of transporting hydrocarbons and the increasing trend toward blocking them will only result in the infrastructure bottlenecks that put more trucks on the road and increase emissions. It's a wash – or net loss – for ESG.
ES: Please provide a few last words on what you see as crucial to your future growth and customer success.
MH: Wherever companies are in the energy mix, W Energy Software is the enabler of their journey. Crucial to moving forward through that journey are our exceptional team and leadership. I am so proud of the culture that we have built and our people who have made it their mission statement to always do right by the client. As we navigate growth, success will not only be defined by our technology and market strategies, but also by how well we take care of the culture that has been built over the years. Blending ingenuity, authenticity and respect, W Energy Software's unique culture is our organizational superpower that will ensure client success, no matter the scale or business complexity.
A big thank you to our amazing clients who put their faith in a little startup company with a vision that has grown into a force to be reckoned with. Thank you for joining W Energy Software on this journey where exciting innovation and abundant new opportunities are just on the horizon.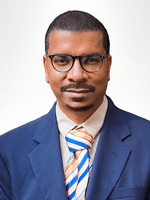 The CEO of U.S. Energy Media, Emmanuel Sullivan is a technical writer who has built up his profile in the oil and gas industry. He lives and works in Houston, where he publishes Oilman and Oilwoman on a bimonthly basis, and Energies quarterly, distributing the magazine to energy thought leaders and professionals throughout the United States and around the world. At a time when technology is rapidly changing, he provides an invaluable service to oil & gas, and renewable energy executives, engineers, and managers, offering them both broad and specific looks at the topics that affect their livelihoods. Sullivan earned his BA in Communications at Thomas Edison State University and his MA in Professional Writing at Chatham University. 
3 Ways Technology is Going to Shape the Oil and Gas Industry
Free to Download Today
Oil and gas operations are commonly found in remote locations far from company headquarters. Now, it's possible to monitor pump operations, collate and analyze seismic data, and track employees around the world from almost anywhere. Whether employees are in the office or in the field, the internet and related applications enable a greater multidirectional flow of information – and control – than ever before.