The oil, gas, energy and utility industries face big challenges through 2025 as they strive to keep pace with global energy demand. There are numerous reasons behind this: Evidence points to increasingly unstable power grids, much higher costs stemming from inflation for companies to expand their capacity, and rising business costs to meet new energy demands.
And all this comes after the past few years of pandemic-related uncertainty, supply chain miseries, and imbalanced oil-gas pricing pressures as a result of the Ukraine-Russia war.
Industry leaders in the renewables sector often speak of Americans converting to renewable energies as quickly as possible to reduce our dependence on fossil fuels. But adoption is slow and energy companies have to contend with complicated requirements to meet industry regulations.
One solution lies in pursuing new technology alternatives in addition to energy alternatives. Energy, gas and oil companies can implement AI and machine learning processes to retool their internal systems. Using proven AI-based systems will help these firms to optimize their operations, and scale up processes.
Global Oil Production Growing
The demand for oil remains high: The U.S. Energy Information Administration's latest Short-term Energy Outlook report (August 2022) shows that U.S. crude oil production is expected to set a new yearly record at 12.7 million b/d in 2023 if its estimates are met.
The same sector report notes that global consumption of petroleum and liquid fuels is expected to grow by some two million barrels per day in 2022, on a global average of nearly 100 million b/d for the year.
Yet, the ongoing Russia-Ukraine war has led to global supply shortages of oil and gas. More countries, including the United States, are relying on the Middle East gas pipeline, showing that oil resources may come under supply pressures.
Product shortages are only one part. There is also the continuing high inflation/stagflation, fewer natural resources, limited oil drilling and aging facility infrastructures. Taken together, more uncertain times lie ahead for these industries.
Trends in Digitization
Energy companies and oil and gas firms must make a digital transformation to protect their assets, help identify on-hand inventory value, and increase visibility across their supply networks.
According to a recent Research and Markets analysis, five key trends exist for the oil and gas industry over the medium to long-term. Chief among these trends is that energy companies need to start to utilize digital technologies like artificial intelligence, machine learning and IoT (internet of things) to increase energy efficiency and to help advance the energy transition forward.
Top priorities for energy and gas companies include investing in upgrading their infrastructure, especially in maintenance, repair and operations areas. About 45 percent of the utility companies surveyed in a recent Cap Gemini Engineering report found that they are considering investments in analytics. Improvements in software infrastructure will help these companies be better positioned for upcoming market changes and industry trends.
Through the use of AI tools, oil and gas companies can accurately identify their on-hand inventory value. The technology can even forecast how cost-cutting measures might impact their bottom lines to sidestep any potential shortages and supply chain issues.
Rethinking Business Operations with an MRO Strategy
Having a well-thought-out maintenance, repairs, operations (MRO) strategy for business operations can be a winning solution for oil and natural gas companies. Making this strategy a corporate priority can help advance the energy transition and, at the same time, gives top executives the ability to oversee inventory and operational processes more accurately.
With a focused MRO strategy, oil and gas companies can lower risks and better balance costs. Oil and gas companies will also see improvements in parts, labor, equipment and operations, leading to improved revenue and margins. In addition, due to new impending regulations stemming from gas pipeline leaks or gas leak incidents, such a strategy can help lessen any cost increases.
Winter is on its way. Gas and oil use will rise. Companies in this sector, as well as energy and utilities, will find that they will be better positioned with a digital transformation strategy. Harnessing MRO inventory data via a strong SaaS platform can bring new insights, more open transparency and real-time visibility that will help drive results.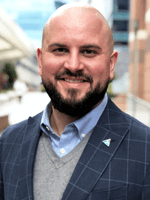 As founder and CEO of Verusen, an innovator in supply chain data, inventory and procurement technology, Paul Noble oversees the company's vision and strategic direction. He has extensive experience in the industrial supply chain and distribution space and was recognized as a Supply Chain Pros to Know by Supply and Demand Chain Executive in 2020.
Prior to founding Verusen, Noble spent over a decade with the Sherwin-Williams Company, where he specialized in supply chain/manufacturing and led its Eastern U.S. Industrial Distribution business unit. Noble graduated cum laude with a bachelor's degree in management and marketing from Lincoln Memorial University in Harrogate, Tennessee.
3 Ways Technology is Going to Shape the Oil and Gas Industry
Free to Download Today
Oil and gas operations are commonly found in remote locations far from company headquarters. Now, it's possible to monitor pump operations, collate and analyze seismic data, and track employees around the world from almost anywhere. Whether employees are in the office or in the field, the internet and related applications enable a greater multidirectional flow of information – and control – than ever before.