Connected gas detection isn't the tech of the future anymore. It's right here, right now, and more money-saving, sustainable and simple than you think. In fact, in today's industrial workplace, if you're a safety or operations manager looking to build or sustain a robust safety culture, it's no longer a "nice to have," but a must have. Whether you work in oil and gas, petrochemicals, renewable energy, utilities or other industries with a wide spectrum of safety needs, knowing how connected safety can amplify your HSE program – no matter how basic the application – is key to moving beyond compliance.
Single-Gas Detection
You may think traditional beep and flash disposable gas detectors are meeting your needs, but are you looking at the bigger picture? Connected safety solutions, like Blackline Safety's G6, provide vital data that not only streamlines your incident response process, but also enables you to get ahead of risks – all while improving compliance and operational efficiency.  
What About Added Costs?
We've got that covered, too. There are many variables to consider when looking at the total cost of ownership (TCO) of your safety program. Reducing lost devices and false alarms is just the beginning of how connected safety solutions cut costs and provide long-term value for companies using single-gas detectors.
The Current State of Single-Gas Detection
Traditional single-gas detection solutions are hardware-driven. Specifically, personal gas monitor alarms only notify the device wearer that they have encountered a hazardous atmosphere. Safety managers also need to conduct manual assessments across a worksite to identify problem areas, inspect infrastructure and gather gas exposure testimony from employees. However, this approach can result in oversights, leading to gas detection risks and gaps in workplace safety.
For example, by only relying on local sensor readings and workers reporting that information, you may miss a developing pattern of hazardous gas readings. For first-generation gas detection systems that do collect data, it's often inaccessible until the device is docked, with no real-time visibility of atmospheric conditions or worker safety.
"The main focus is using data collected for emission reporting to state and federal agencies. [Data] is only received if there is an incident. It stays on the monitor. If there is a leak, they will pull the data and only in the event of an incident." – HSE Managers (Priority Metrics Group, 2022)
In a survey of 100 HSE managers in North America,1 the most frequently measured gases reported were H2S, CO, O2 and combustible gases (LEL). While over two-thirds of respondents employed single-gas detectors that generate data, most used the information for routine internal or external reporting. Twenty percent said they only use the data when there is an alarm or incident.
What is Connected Safety?
Connected safety solutions combine gas detection devices with location technology and cloud-based software and data analytics. Together they reveal real-time gas exposure levels alongside worker location and condition.
This gives safety and operations managers full visibility through an online dashboard – accessible anywhere, anytime – without needing to wait until a device is docked to receive the data. Data analytics can then identify areas of potential hazards based on repeated alarms or below alarm level gas exposures, so corrective action can be taken before they become an incident.
Why Use Connected Safety for Single-Gas Detection?
Connected safety keeps you from having to do the manual guesswork of determining gas presence based on testimony or data from docked single-gas detectors that only tell a delayed part of the story.
By using cloud-enabled safety devices and analytics reports, you can work to mitigate and even eliminate safety risks by:
Accessing real-time information to quickly respond to incidents.
Creating preventive safety protocols and processes based on analysis of accurate data.
Proactively managing worker and device compliance and reporting.
Let's break down these benefits one by one:
Streamline incident response – Connected safety devices provide accurate location information of your workers on your dashboard in real-time should an incident occur. This enables you to quickly respond to individual incidents or enact emergency response and evacuation procedures.
Enable proactive safety – Connected safety lets you leverage insights from vital information and trustworthy data to reduce incidents; for example, by creating more effective preventive safety protocols and processes. Having full visibility of your workers lets you scale your safety program across worksites and facilities. You can also identify focus areas where additional worker training should be implemented.
Improve compliance – Connected safety delivers a single source of data to tell which devices in the field are compliant – or not. With a simple bump test and calibration, the accountability for a compliant device can be put on workers to ensure they maintain the device to your company's set schedule. With a dashboard that shows the real-time bump test and calibration status of your full device fleet, you can focus on those that are out of compliance.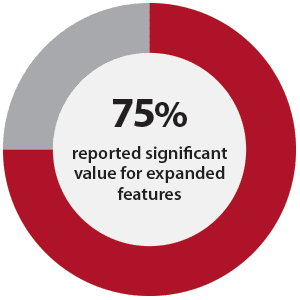 What Safety and Operational Managers are Saying
Seventy-five percent said there is significant value in a single-gas detector with expanded features. The top desired capabilities included longer life, reduced false alarms and device location.
What Factors Contribute to Connected Safety TCO?
Many companies aren't formally tracking the total cost of ownership (TCO) of their single-gas detectors (Priority Metrics Group). For companies that are, many don't look beyond the price of the devices, consumables and maintenance. Whether buying or leasing, single-gas detectors are most frequently purchased on an as-needed basis as an operating expense, making it less likely for companies to pay attention to overall TCO.
Beyond the most obvious benefit of reducing costly safety incidents, factors to consider when evaluating the overall TCO of connected safety solutions include benefits that increase operational efficiency and reduce associated costs.
A few areas are worth breaking out.
Reduce False Alarms
Survey results indicate that false alarms are relatively frequent resulting in costly evacuation procedures. Traditional disposable single-gas detectors can be prone to false alarms making workers doubt their accuracy. This can lead to workers ignoring them so they can just get the job done.
Connected safety solutions provide higher precision gas detection and continuous visibility to safety and operations managers.
Minimize IT Resources
Survey results indicate that fence to fence Wi-Fi and private LTE are the most frequently identified wireless communications used or planned. Setting up and maintaining IT takes resources and time, translating into indirect costs that affect TCO of the safety program.
Connected safety is direct to cloud and is connected right out of the box, including over the air (OTA) updates.
Fewer Lost Devices
Survey results indicate that device location is one of the top capabilities desired for single-gas detectors. On average, 20 percent of single-gas devices are lost resulting in replacement costs and operational churn.
Connected safety GPS location tracking drastically reduces the number of lost devices by allowing workers to find them whether they were left behind or fell off.
"If we could recover those units that are lost…they are hard to keep track of with workers leaving and turnover. If we can get an average of 18 months [from disposables], that is between damaged and lost, we are happy." – HSE Managers (Priority Metrics Group, 2022)
Increased Lifespan
Survey results indicate that longer device life is a top desired capability. Disposable single-gas detectors are slated to last only 18-24 months before they need to be replaced. This comes with replacement costs and also the need for additional inventory to ensure workers can continue the task at hand.
Connected safety single-gas solutions, like Blackline Safety's G6, have a four-year lifespan – two times that of disposables – and have a rechargeable battery with a one-year life.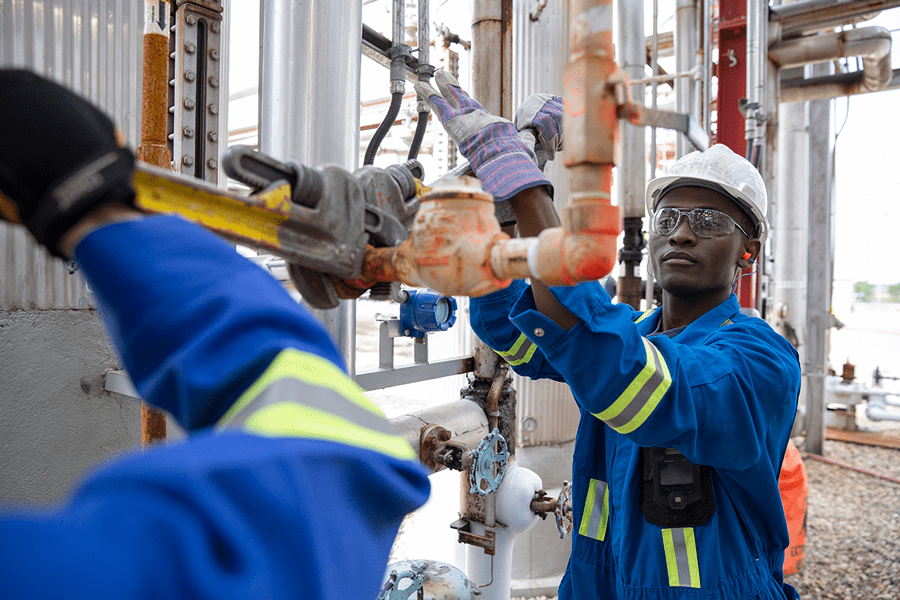 How Does Connected Safety Contribute to Sustainability Goals?
Much like the difference between using disposable, single-use coffee pods versus buying coffee beans and using a French press, connected safety solutions are an inherently more sustainable option with a reduced environmental impact compared to disposable detectors.
While some companies return single-gas detectors to the vendor or manufacturer for recycling or have in-house departments refurbish them using salvaged parts, the disposal process can be onerous. Like TCO, using devices with longer lifespans, being able to locate them if lost to reduce waste, and working with a manufacturer committed to responsible recycling and disposal will support your organization's commitment to sustainability.
While sustainability may not be within your scope, those responsible for leading ESG initiatives at your company will be keen to know that shifting to a connected safety solution will contribute to their health, safety, security, environment (HSSE) and environmental, social, governance (ESG) goals.
Transform your single-gas detection program with Blackline Safety's all new G6 connected single-gas detector. Learn more at Blackline Safety.
Glen Silver is the VP Sales, North America at Blackline Safety, where he is responsible for the overall growth strategy of the North American sales organization and the execution of Blackline's go-to-market plan. Prior to joining Blackline in 2018, Glen held progressively senior leadership roles with United Safety, W.W. Grainger and Compass Group PLC where he led high performing sales teams to consistently deliver strong revenue growth. Glen holds a B.Comm degree in marketing from the University of Calgary.
3 Ways Technology is Going to Shape the Oil and Gas Industry
Free to Download Today
Oil and gas operations are commonly found in remote locations far from company headquarters. Now, it's possible to monitor pump operations, collate and analyze seismic data, and track employees around the world from almost anywhere. Whether employees are in the office or in the field, the internet and related applications enable a greater multidirectional flow of information – and control – than ever before.