As the demand for a shift to renewable energy sources grows, the infrastructure that has long served as the foundation of our energy supply is undergoing a significant transformation. However, despite the focus on this "energy transition," high-quality manufacturing and engineering remain essential constants. The oil and gas industry continues to be a leader in this regard.
But is the oil and gas sector overlooking an opportunity? As director at Vessco Engineering, I explore whether the stringent processes and procedures that govern engineering and manufacturing in the civil nuclear sector could also be applied to oil and gas.
According to a February 2023 market report by SkyQuest, the global oil and gas fabrication market was valued at $5.1 billion in 2021, and is forecast to hit $17.91 billion by 2028.
For North America, the oil and gas fabrication market looks poised to take a significant leap forward due to the surging demand for crude oil and refined products, including natural gas. Natural gas is a cost-effective fossil fuel that is likely to experience high demand in the foreseeable future, driving the global oil and gas pipeline fabrication and construction market as natural gas pipeline networks expand in line with consumption growth.
SkyQuest's research also predicts a steady increase in global natural gas demand, with an estimated annual consumption of 4,626 billion cubic meters by 2026. This growing demand should serve as a significant driver of growth and development for the oil and gas fabrication market.
All this points to evidence that the fabrication processes in oil and gas need to, and will, continue to evolve to meet the new demands of the energy transition, and other world affairs that impact globally. With sums reaching up to $18 billion up for grabs, those within the industry must keep up to date with the developments, trends and opportunities in the market.
As a specialist fabricator of large pressure vessels, we have had the opportunity to utilize the best practices and techniques from the nuclear engineering sector and apply them to other industries, including the oil and gas sector which has been a mainstay of our work over the decades. Having achieved the Fit for Nuclear Standard (F4N) in 2018, we have a proven track record in working on nuclear processing sites such as Sellafield, power generation sites like Hinkley Point C, and experimental fusion facilities, both domestically in the U.K. and internationally.
The IP and processes that we have assimilated from working within the highly regulated nuclear sector have directly shaped our work in other industries, such as the water utility and chemicals manufacturing, as well as energy. It's not only our own company undergoing this, our experience and observations of this are consistent with other suppliers across the Tier 2 and Tier 3 nuclear supply chain.
What's Different and What Can Be Transferred?
First and foremost, the civil nuclear sector is governed by some of the most stringent and rigorous documentation and processes of any industry. It goes without saying that the implications of a serious accident in the sector are significantly higher than in others and, for that reason, the tried and tested methodologies deployed here can be usefully cross-pollinated, especially where safety and risk are critical considerations, as they are too in oil and gas.
Quality plans and inspection and test plans are extensive, shaping wider areas of the manufacturing workflow. I believe that those who are involved in manufacturing and engineering within the oil and gas sector have everything to gain by embedding some of this thinking into their own processes starting with design, right through to inspection and quality control.
In nuclear, for instance, there's a highly developed focus on identification of counterfeit, fraudulent or suspect (CFSI) items. Proving and validating provenance is critical. It's not just about the potential problems of the purchased materials, it's about maintaining tight traceability throughout the complete manufacturing journey, such as documented evidence that the material you legitimately procured is still the same material, from the same source, should that material need to be divided across separate components.
To mitigate the risk of CFSI, both the civil nuclear and oil and gas industries rely on strict materials sourcing and quality control protocols. This includes the use of trusted suppliers, strict inspections and detailed documentation of materials and components. Furthermore, they must be able to identify these items using a variety of methods, such as physical and chemical testing, electronic tracking and traceability, and certification programs such as CFSI, BS EN 4872 and other global certifications.
Do Health and Safety Thwart Change?
Components in oil and gas production and exploration are not without their own strictly controlled quality and safety requirements, not just in the protection of valuable resources, but in terms of the colossal risk to the environment in the event of a major leak or breakdown. Controlled welding and monitoring techniques are vital in meeting these uncompromising standards, from the manufacture of transmission pipelines, storage vessels or vessels that need to withstand immense pressures, temperatures or weights, such as those found on and offshore on from rigs and platforms to gas processing plants. Additionally, structures and equipment used in the industry must have a long lifespan, welding being critical to durability and resilience.
Having said this, it is also my experience that both the nuclear and oil and gas sectors are still relatively slow at embracing new technologies, such as modern methods of welding and fabrication, like synergic MIG welding which is proven in so many other sectors. It has a relatively low defect rate and I believe could be employed more widely in oil and gas for the fabrication and manufacture of pressure vessels, heat exchanges, and columns within refineries and exploration platforms. However, it all comes back to safety, and with change comes perceived increased risk.
Speed is crucial in industries that involve production. This is especially true in oil and gas where minutes of production downtime are measured in the millions potentially. It is imperative that sufficient time is given for the advance preparation of documentation prior to manufacturing, and oil and gas suppliers should expect the process to be iterative and precise with no room for misinterpretation or vagueness.
Typically, civil nuclear work involves more inspection hold and witness points than oil and gas work. However, the ultimate goal is the same, and effective preparation and documentation management should be established from the outset to increase workflow efficiencies and, ultimately, profitability.
In the nuclear industry, innovation is constantly required, particularly to accelerate traditionally slow processes due to the need for traceability and safety auditing. Even small improvements can have a significant impact on the bottom line for all tiers of the supply chain, especially at Tier 2 and 3. In addition to new methodologies, there is a need for new materials such as yttrium in the nuclear fusion sector.
Similarly, there is a need to produce components faster and more economically while maintaining quality. Sharing these learnings with other manufacturing industries can benefit global engineering, particularly during a time of significant change in energy production and consumption, with exponential market growth predicted.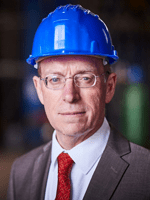 Julian Vance is a science graduate, M.Sc. in marketing, chartered marketer. Early roles included sales and marketing trainee with Proctor & Gamble, marketing management with Proctor & Gamble, owner and M.D. of computer software company, marketing director with a U.K. based plc selling to hotels and leisure sector. He was a management consultant working primarily in the engineering and manufacturing sectors (eight years), and later managing director of pressure vessels companies (23 years).
Vance founded Vessco Engineering Limited in 2006, and developed the business to become one of the U.K.'s leading pressure vessels and systems companies. He started marketing to the civil nuclear sector in the U.K. in 2012, with the first order gained in December 2017; completed three contracts for HPC, working on further contracts for HPC: one for Sellafield, one for UKAEA, one for ITER France, and two for Bangor University Nuclear Futures Institute – totaling well over £20m. of orders.
3 Ways Technology is Going to Shape the Oil and Gas Industry
Free to Download Today
Oil and gas operations are commonly found in remote locations far from company headquarters. Now, it's possible to monitor pump operations, collate and analyze seismic data, and track employees around the world from almost anywhere. Whether employees are in the office or in the field, the internet and related applications enable a greater multidirectional flow of information – and control – than ever before.