NJ Ayuk is Africa's renaissance man. Born in West Africa, (he calls himself "the luckiest kid born in Cameroon"), and raised by a single mother of six, he was taken to Germany by Christian missionaries and received his middle school and high school education there. Multilingual ("I speak the German language better than the English language"), he went to the United States for his undergraduate degree, earning a Bachelor of Arts in Government and Politics from the University of Maryland ("Go Terps!," he cheers quietly in support of his alma mater), followed by admittance to the Mitchell Hamline School of Law in Minnesota, where he earned his Juris Doctor. Upon graduating, he completed his education by attaining an MBA in Finance from the New York Institute of Technology.
Interestingly, he never took an oil and gas class in college or law school, saying he would have "hated it," if it had been offered to him. "I wanted to be a civil rights lawyer and I focused on civil rights litigation," he says, citing Thurgood Marshall, the first African American Supreme Court Justice, and Charles Hamilton Houston, the first general counsel of the NAACP, as his heroes. "I wanted to go [down] that path."
Returning Home
Ayuk worked at Baker Botts law firm in the U.S. for a period of time ("I was a big fan of James Baker, the former Secretary of State," who was a senior partner at the firm after he left public office), but Africa was calling him home.
"I had to find ways to empower people because the political struggles have been won – colonialism has ended, apartheid has ended. Now, we've got to fight to lift people up with economic rights, and that became the work of my life." Ayuk founded the Centurion Law Group, based in Johannesburg, South Africa, which has since become one of the largest energy law firms in the Continent with almost 160 lawyers across Africa. It was also the first African law firm to be listed in the German Stock Exchange.
"We did something very innovative [in] listing a law firm on the stock exchange, but we wanted to ensure that everybody that is part of our law firm, our platform, [could] have a little piece of what we had. We dedicate much time to really driving some of the best ideals I learned from America – free markets, limited government, individual liberty, and really never saying no, dreaming big and pursuing those dreams and not letting anything stop you."
A Mother's Wisdom
While those are some of Ayuk's guiding principles, both personally and professionally, he says it is his mother who really influenced his character. "Everything I have, I owe to my mother," he says, paraphrasing Abraham Lincoln's words. "Mama went back to college after she had six kids and [got] a PhD at the age of 65. She never stopped studying, never stopped the idea of education." Because of her example, he credits education with shaping his very being and everything he does.
His mother was a teacher, so he says, "There is that strong belief that education [lifts] you out of poverty, it gets you out of every difficult circumstance, and it opens the mind for you to have those critical thinking skills." Watching as his mother has continued to pursue education throughout her life and be a role model for her students and other African women, Ayuk says, "When you get a single mother raising six kids – five of them boys – on her own with very little income, you have to understand that you're going to have to give it your very best and not be a statistic. [You cannot] let somebody's perception of you become your reality."
Blessed Continent
Ayuk calls Africa a "blessed" continent, one that is rich in resources, including coal, oil, natural gas and rare earth minerals. However, it is a continent that still suffers from an energy deficit with less than half (48.2 percent) of the population of sub-Saharan Africa having access to electricity, according to the World Bank Global Electrification Database (2020).
"We talk so hard about energy poverty because we lived it," Ayuk says, as he recalls growing up in communities where they had no electricity and women didn't have access to clean cooking technologies. "That was my mother. That was my grandmother. [Seeing] them having to burn biomass to have lights or to cook. Those vivid realities and pictures still stick with me."
Pointing out that the war in Ukraine has shown how critical energy security is, Ayuk says, "We have not met that energy security for most Africans, for poor people, and for the vast majority that are young people longing to see productivity in the Continent."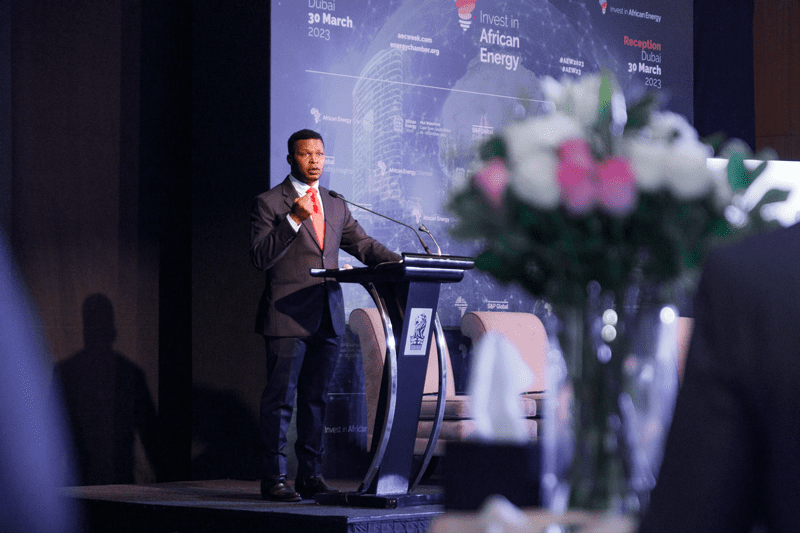 New Discoveries
He believes there is reason to be optimistic. According to the World Population Review, currently four of the world's top 20 oil producing countries are in Africa: Nigeria, Libya, Angola and Algeria. In the past year alone, notable discoveries were made in Namibia, Egypt, Mozambique and offshore South Africa.
In May of 2022, Angola overtook Nigeria as Africa's top oil producer (with the two OPEC members trading the first place position since then) and, in November of that year, ExxonMobil and partners announced a new discovery off the coast of Luanda. Noting the fact that the country's civil war ended less than 25 years ago and that it is heavily reliant on oil revenues in order for the government to succeed, Ayuk says, "They still have to a society to build, but [they] need to move away from being a rent collecting state to being people that manufacture and develop a [strong] economy," currently, the third largest in sub-Saharan Africa.
South Africa, where about 80 percent of electricity is generated by burning coal, has long been a major coal producer and exporter; however, the International Energy Agency (IEA) projects a decline in both demand and production through 2040 (production hit its lowest level in 29 years in 2022). Analysts say South Africa also has massive natural gas potential, as well as renewables potential, such as green hydrogen.
However, Ayuk cautions, "There are issues around decommissioning coal mines and decarbonization to really have a cleaner, better, more environmentally friendly energy sector system." According to the Brookings Institute, the Steenkampskraal mine in the Western Cape Province has one of the highest grades of rare earth elements in the world.
Mozambique could go from zero to one of the largest producers of natural gas in the world, given that its first offshore project, the Coral South facility, came online earlier this year and is one of only a few floating LNG plants in the world. "Now they need stability, to keep peace, [and have] security to be able to drive up that gas," Ayuk observes.
Calling Namibia "the new kid on the block," he says that significant discoveries by TotalEnergies and Shell have attracted the attention of a "floodgate" of other oil majors like Chevron and Exxon, as well as Canadian and European companies.
The potential is there, but the Continent faces serious challenges, not the least of which is from the international community.
COP27
In November 2022, Ayuk attended the COP27 Climate Change Conference, which was held in Egypt (Africa's third largest natural gas producer, according to the EIA), where a number of oil and gas company representatives and others in industry gathered in support of the case for being allowed to develop their countries' resources to alleviate energy poverty.
Ayuk released a statement titled "Africa Must Oppose COP27 Measures Preventing Full Use of its Fossil Fuels," which read, in part:
I am at  COP27 because I believe if Africa is not on the table it will be on the menu. Let me be clear, those of us who are advocating for African countries to continue using their oil and gas resources are not "ignoring" the world's green agenda – we're simply not willing to embrace the world's timetable for transitioning to renewable fuels at the expense of our own energy security and economic well-being. 
The way we see it, the world's wealthy nations' green agenda ignores Africa – or at least, it dismisses our unique needs, priorities and challenges.
Namibia's petroleum commissioner, Maggy Shino, echoed those sentiments when she said, "There [are] a lot of oil and gas companies present at COP because Africa wants to send a message that we are going to develop all of our energy resources for the benefit of our people because our issue is energy poverty."
She continued by saying, "If you are going to tell us to leave our resources in the ground, then you must be prepared to offer sufficient compensation, but I don't think anyone has yet come out to make such an offer."
Ayuk draws attention to the debate "as to why a continent that has produced just 2.73 percent greenhouse gas emissions should be put [to] the same standard [as] other wealthy countries that have bigger numbers when this continent has big issues around energy poverty."
He says it is no longer a discussion about rich and poor; it is what he calls "a kitchen table discussion," although the conversation is being had at all levels of society, saying families aren't able to have dinner together at home in the evenings because the lights are out. "Life is no longer business as usual in Africa's most industrialized nations."
Hope As a Driver of Change
Because the problem is continent-wide and affects the population from all walks of life, Ayuk believes it will also be a powerful driver. "Change that is going to have to come – not from America or Europe – it's going to have to come from within Africa. Wakanda Forever is a great movie, but the Black Panther is not coming, so we have to give ourselves that hope to see the light at the end of the tunnel."
In a continent where 75 percent of the population is under the age of 25, it is imperative to find a way to truly engage because, as Ayuk says, "Our realities are very different from the realities of young people in Europe or the United States. They have [electricity], they are industrialized. We are not. We need to industrialize and provide hope and change to so many that count on us and expect to see the Africa that we deserve."
The Issue of Transparency
Part of the challenge means confronting the issues of corruption and bribery that have long plagued Africa nations. In January of this year, Ayuk spent time at the Extractive Industry Transparency Initiatives (EITI) office in Norway, discussing those topics. "We know that we have to confront this issue right front and center," he says, stressing, "The industry of the past cannot be the industry of the future."
He believes African nations have come to realize that "bad actors" in the energy sector impede economic progress, causing a loss of investment and revenue, and he sees signs that countries are working toward a more transparent industry of the future. Saying he is "very, very impressed by what's been done," he cites the collaboration between the African Energy Chamber, where he is executive chairman, and the U.S. government.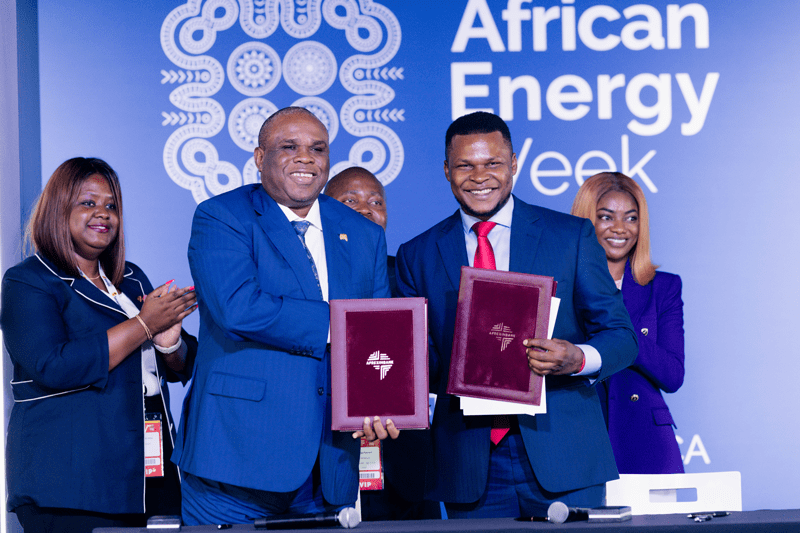 The industry is under intense scrutiny and, while this is not the industry of yesteryear, Ayuk says it's popular to make industry the bad guy. The image is of "a bunch of old white men sitting in a room, chomping cigars, with nice whiskeys and [using] bad language," he says. "That is not the industry of today; the industry of today presents people who look like me."
"Young Africans want to create an African dream, an African opportunity; that is the industry today. These everyday people do not want corruption because we've seen how corruption has held us back. We in Africa must be the drivers of eradicating these bad acts. The past is reference, not resident," Ayuk says, paraphrasing motivational author Roy T. Bennett. He believes that all Africans must be committed to changing and improving the situation. "Because when we do that, it makes markets work, it creates more jobs, it creates more opportunities, billions of dollars [in] investments, projects get approved, and we provide hope, and drive the right kind of Africa that we want to see." With improved policies and frameworks, he believes African energy dominance can become a reality.
Creating a New Narrative
Like his counterparts in the U.S., and throughout the world, Ayuk believes the oil and gas industry has done a poor job of conveying its story, particularly in Africa. He reels off a list of improvements in the quality of life that have been made possible by the petroleum sector, saying it has created more jobs and generated more revenue than any other industry in the Continent. It has helped increase life expectancy, lowered rates of infant and maternal mortality, and enabled progress toward eradicating diseases, like malaria.
"We need to stop apologizing for our industry," Ayuk says adamantly. "We need to embrace our industry. We need to tell our story, drive change, engage in carbon capture technology, and look at sustainable ways to produce oil and natural gas."
"We need to defend our industry like junkyard dogs in the face of a hurricane." And, with that, Ayuk rests his case.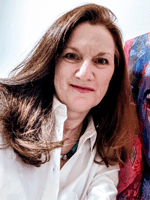 Rebecca Ponton has been a journalist for 25+ years and is also a petroleum landman. Her book, Breaking the GAS Ceiling: Women in the Offshore Oil and Gas Industry (Modern History Press), was released in May 2019. For more info, go to www.breakingthegasceiling.com.
3 Ways Technology is Going to Shape the Oil and Gas Industry
Free to Download Today
Oil and gas operations are commonly found in remote locations far from company headquarters. Now, it's possible to monitor pump operations, collate and analyze seismic data, and track employees around the world from almost anywhere. Whether employees are in the office or in the field, the internet and related applications enable a greater multidirectional flow of information – and control – than ever before.