Prime Minister, Winston Churchill, strongly credited the American oil industry's cooperation with the U.K. oil industry for victory in World War II. The oil industry is as needed today as it was in the 1940s.
I am pleased to be serving as the executive producer of the upcoming docufilm, Sherwood Forest, along with Academy Award-winning producer, Gray Frederickson (The Godfather 2), Emmy Award-winning Greg Mellott, and production supervisor and assistant director, Sean Lynch. The narrator of the production is Barry Corbin, who has been in over 225 movies/film productions. The production is made possible by the Oklahoma History Center and Samuel Roberts Noble Foundation, OERB, James Day and others.
There are several reenactments, which were filmed in Oklahoma locations, and around 58 cast and crew were involved. British Petroleum (bp) greatly assisted in providing footage from its archives of the 1943 timeline of Sherwood Forest. It has been quite a challenge to complete the project, especially due to COVID-19 restrictions. The release date is Spring/Summer 2022. I share with you the production team's synopsis of Sherwood Forest:
In 1943, at the peak of World War II, German U-Boats hunting in "Wolf Packs" were sinking American tankers delivering oil to England in record numbers. Even if the tankers made it to the docks, the same German bombers devastating London and Liverpool and all of England's major cities would explode the tankers before the oil could get off-loaded.
The British were running out of oil to fuel their Spitfires that battled German bombers nearly every night. They were ripping bottoms out of oil tanks and sending the residue to refineries to keep their war machine from collapsing, and their country overrun by Nazi invasion forces, just across the channel in France.
Because of that, the English reached out to America for help in drilling for oil inside the United Kingdom. They sent a contingent of high-ranking officials to America to recruit professionals in the petroleum industry to come to England with their equipment, men and expertise to produce oil.
Some pioneers in the oil business from the state of Oklahoma took on the challenge and mobilized a group of oil field "good ole boys" roughneck/cowboys, who traveled to England and lived outside of Sherwood Forest in a monastery with British monks.
Their initial success stunned D'Arcy Exploration Company, the English company that hired them, and later became bp, British Petroleum. It took the British crews five to eight weeks to drill a producing well; the Oklahomans did it in one week.
For one year these "fish out of water" oil rig workers secretly drilled 100 wells in the Sherwood Forest. In the end, their operation yielded 3,520,553 barrels of oil.
Sherwood Forest is an incredibly powerful documentary for our entire world right now.
England was within a month and a half of falling to the Nazis because it was running out of oil and gasoline. Without England there would have been no way to stage D-Day, and without D-Day, World War II might have gone to the Nazis.
What was the key to the Allies winning it? Leaders from Churchill to Eisenhower all say the same thing. Petrol, gas and oil – their ability to power all the engines of war on land, sea and air – that's what won the war.
As Sherwood Forest exemplifies the commitment and courage of the oil industry in the 1940s, "Sherwood Forest 2.0" exemplifies today's need for a strong oil and gas industry, as well as the entire energy industry, in providing a road map to solutions, including energy efficiency, environmental preservation, energy reliability and accessibility, security, sustainability and "strategic optimization 1440." America needs America's energy, all forms, all American!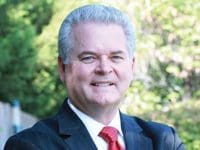 Mark A. Stansberry, Chairman of The GTD Group, is an award-winning author, columnist, film and music producer, radio talk show host and 2009 Western Oklahoma Hall of Fame inductee. Stansberry has written five energy-related books. He has been active in the oil and gas industry for over 44 years, having served as CEO/President of Moore-Stansberry, Inc., and The Oklahoma Royalty Company. He has served as Chairman of the Board of Regents of the Regional University System of Oklahoma, Chairman 2016-2017 of the Gaylord-Pickens Museum/Oklahoma Hall of Fame Board of Directors, Lifetime Trustee of Oklahoma Christian University, and Board Emeritus of the Oklahoma Governor's International Team. He has served on several public and private boards. He is currently on the advisory board of IngenuitE, Inc.
3 Ways Technology is Going to Shape the Oil and Gas Industry
Free to Download Today
Oil and gas operations are commonly found in remote locations far from company headquarters. Now, it's possible to monitor pump operations, collate and analyze seismic data, and track employees around the world from almost anywhere. Whether employees are in the office or in the field, the internet and related applications enable a greater multidirectional flow of information – and control – than ever before.