There's no question that rising environmental, social and governance (ESG) concerns on the part of investors, the public, and the oil and gas industry itself have created a balancing act. How does the industry embrace a cleaner oil patch while still operating economically? Are there areas in which the ESG-friendly solution is also a friend to the bottom line? Yes, there are, and that includes treatment of scale, corrosion and paraffin in water flowlines for producing wells, saltwater disposals and waterfloods.
Before the 1990s, most producers fought those problems with chemicals that, if spilled, were toxic to humans and the environment. And in truth, they were only somewhat effective against scale and corrosion, still requiring regular and costly hot oil or other extreme treatments to stay ahead of the game.
Since the mid-1990s, there's been a move toward improving the environmental scores for chemicals, but most are not there yet. They still involve expensive hot oiling at intervals of six months, three months or even 30 days. In cases of extremely hard water, the amount of chemicals required to adequately treat scale and corrosion would be prohibitively expensive. In those situations, producers are forced to spend every affordable dollar on a treatment that is still inadequate, reducing flows, increasing pipeline pressures and requiring too-frequent workovers.
Introducing an Environmentally Friendly Workforce
Microbes used in SWD and EOR treatment for scale, corrosion and paraffin involve a blend of facultative anaerobic microorganisms continuously injected into the formation. These microorganisms thrive with or without available oxygen – actually using up all the available oxygen first – making them ideal for treating corrosion, which is primarily caused by oxygen.
Because the microbes are also specialized non-toxic, non-pathogenic and non-carcinogenic, they are safe for humans to handle and do not require cleanup in the event of a spill. Combined with the fact that they are also naturally occurring, the EPA has decided the microbes do not require reporting if spilled. The agency regulates only intergeneric microorganisms, meaning those formed by deliberate combinations of genetic materials from organisms classified in different taxonomic genera.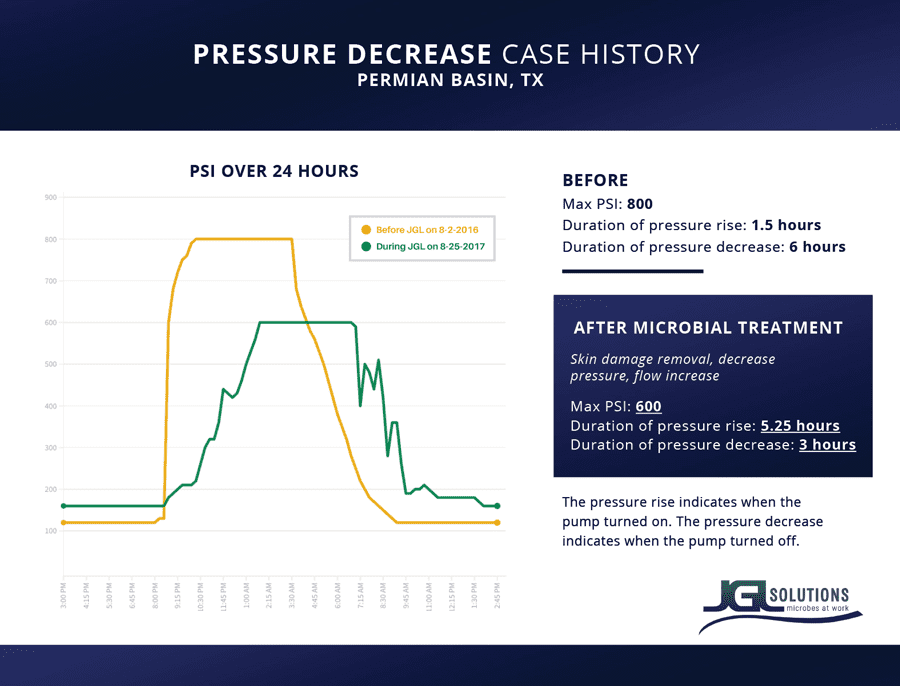 How Microbes Remediate Scale, Corrosion and Paraffin
When addressing scale, corrosion and paraffin in SWDs or waterfloods, the process starts in the lab, testing the water to determine the source of the scale, etc. Common causative contaminants for scale include iron sulfide and other iron compounds, calcium carbonate, barium sulfate and strontium sulfate. Sulfate-reducing bacteria (SRBs) are another common cause. Corrosion, on the other hand, is most often a result of oxygen in the system. This information informs the design of the microbe treatment blend.
For scale, microbes chelate the cations, keeping them from forming new scale deposits. This process also provides barrier protection. The prevention of new scale formation allows existing scale to dissolve, which can take a few months to complete. In that way, the microbes scrub injectors, flowlines, tanks and every surface affected by produced water.
In the case of corrosion, microbes offer the following benefits:
Remove corrosion-causing oxygen and continue to thrive
Produce a protective barrier on all surfaces
Remove deposits
Take food from harmful microbes such as sulfur-reducing bacteria (SRBs)
A single microbe blend can remediate all scale and corrosion. Paraffin's long-chain hydrocarbons are what precipitate out onto surfaces to create clogs and blockages. A properly calculated microbe mix breaks those long chains into shorter chains – refined crude oil – that can flow properly out of the system and into the sales line (see chart).
Injection point options are many, including the gun barrel, intake tank, flowline, etc. The earlier in the system the better, because microbes start work there and continue cleaning all along the way.
On-site, the bioreactor constantly produces microbes for ongoing injection at a rate of approximately one million cells per ml. This ensures a consistent treatment level.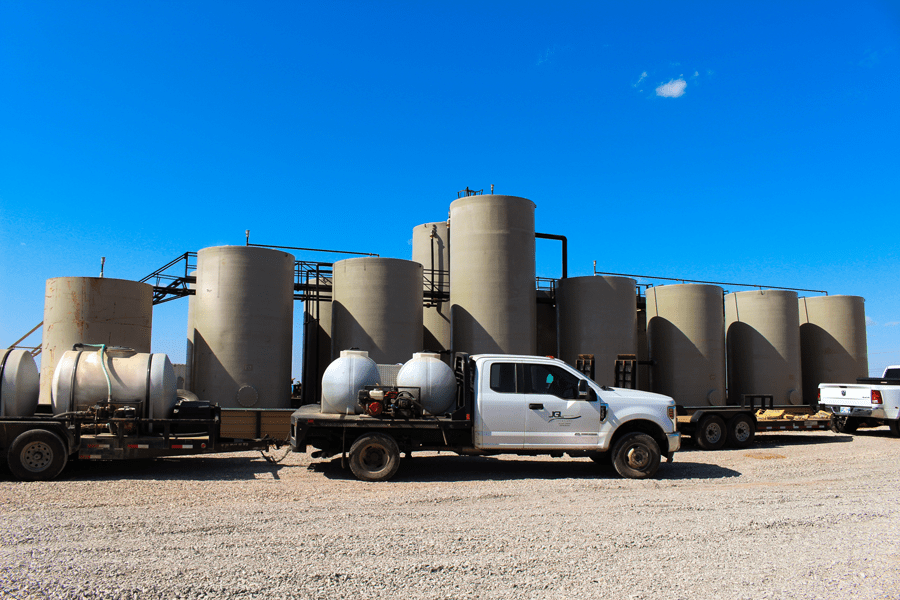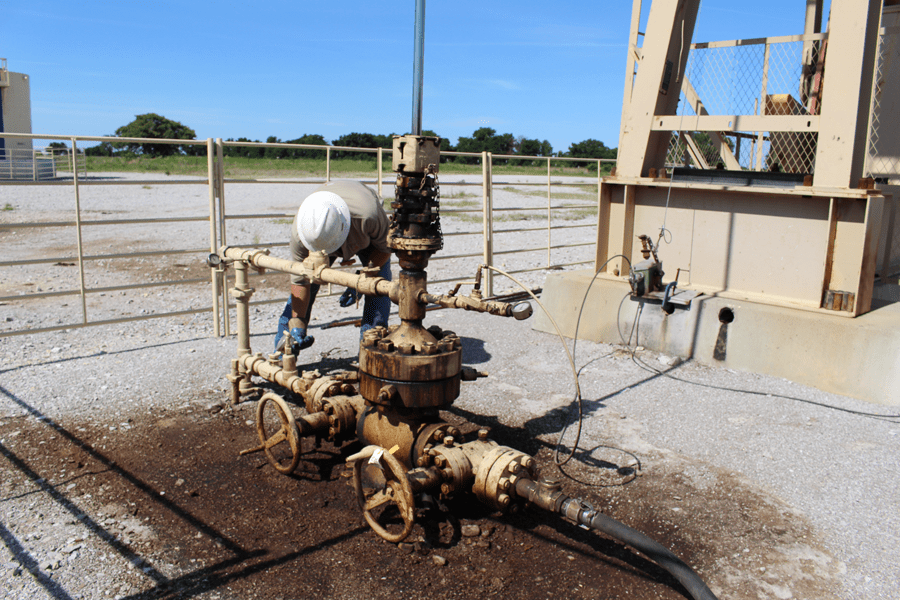 In the Field
It is very true that many options touted as effective and environmentally safe are in reality neither. That's especially true of the "effective" part. Fortunately, there are many case studies showing that microbes are not just as good as chemical treatments; they are usually better.
A Permian Basin producer asked JGL to treat a high volume SWD on a trial basis before deciding whether to use microbes in the other seven nearby SWDs. In that initial facility, scale buildup was pushing injection pressures as high as 800 psi within 1.5 hours of starting the pump, but requiring six hours to drop back to normal. After starting the microbial treatment program, the duration of the pressure rise extended to 5.25 hours and reached a much more tolerable level of 600 psi. Conversely, the pressure decline interval dropped to just three hours. The end user saw these changes as indications of skin damage removal leading to greater water flow and improved injectivity. Flow increased so greatly that the producer saw the system empty its holding tank faster than it was prepared for. After the test, the company expanded the treatment to the entire field, a regimen that continued until it sold the operation.
A Kansas producer's injection wells also saw improvements regarding faster flow rates and lower pressures. Additionally, they experienced a significant drop in the frequency of hot oiling, which cut those costs by 66 percent, pump repair costs by 40 percent, and flow line repair and replacement costs by 50 percent.
Environmental Impact
Most current treatments for scale, paraffin and corrosion include chemicals and hot oiling, both of which carry safety and environmental concerns, not to mention questions about effectiveness and cost. Most chemicals, while safer than they were 20 years ago, still require special handling by personnel, and HAZMAT cleanup if spilled. Hot oil must also be cleaned up if spilled. Instead of creating cleanup issues if spilled, the non-toxic microbes used by JGL have been observed to actually promote plant growth on sites. No special handling is required on the part of humans involved with such treatments.
The Sweet Spot
Any treatment that connects the ESG trio of environmental safety, operational optimization and cost effectiveness in one process offers great promise. Changes in the investing and staffing environments have joined with changes in the environment itself to push the oil patch to adopt a wide variety of changes. "We've always done it that way" has given way to "How can we do this better?" This new thinking will empower the industry to continue to fuel all kinds of progress for the foreseeable future.
Headline photo: In addition to SWD and EOR benefits, microbes can be injected monthly into the casing to treat for paraffin, asphaltenes, scale and corrosion. Photos courtesy of JGL Solutions.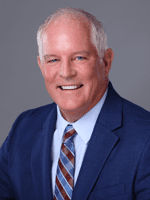 Bill Lantz founded JGL Solutions in 2006 with the goal of providing the oil field with highly effective and sustainable solutions. He is a veteran of more than 30 years in the oil field.
3 Ways Technology is Going to Shape the Oil and Gas Industry
Free to Download Today
Oil and gas operations are commonly found in remote locations far from company headquarters. Now, it's possible to monitor pump operations, collate and analyze seismic data, and track employees around the world from almost anywhere. Whether employees are in the office or in the field, the internet and related applications enable a greater multidirectional flow of information – and control – than ever before.