Technological advancements have significantly influenced workplace efficiency and productivity within the last decade. Automation enhancement and increased surveillance tactics have additionally served as proactive responses to the execution of procedures and monitoring facets found in multiple industries.
A simultaneous approach has been waged at workplace safety. Improved technology with an abundance of new products has concentrated on enabling companies to heighten their level of personal safety. The advancements are directed individually in some areas, while others focus their attention on the platform that all workers must answer.
GUARDHAT incorporates a universal approach in providing workplace safety to customers of various industries that range from petrochemical to construction and also include the forestry and manufacturing industries. This workplace practice of services supplies different wearable products with an intuitive software platform that provides a high level of workplace safety through several outlets. As a result, the company offers a truly comprehensive safety solution in the workplace through an interactive communication process.
Solutions Focusing on the Human Element
Individuals working alone in the workplace are known as lone workers, and GUARDHAT recognized the importance of adequately managing this group. It is here that companies often identify gaps, such as how to know when they have been met with an emergency and how response services can be initiated when needed. GUARDHAT's lone worker solution includes fully capable audio and visual communications. Directing a focus toward remote work, GUARDHAT's lone worker solution provides a higher level of safety hazardous work check-ins and fall detection alerts, customizable by the GUARDHAT user. The technology enables a quicker reaction in emergency response with automated incident management capabilities.
With many in the workforce being affected by exposure to the elements and overexertion, GUARDHAT's technology offers advancements in monitoring the conditions of each worker in the field. The company's wearable devices include sensors that assist in preventing adverse effects from exposure to heat, gas, radiation, noise, overexertion and even specific health issues experienced by each worker. The technology leaps forward with the ability of the benchmarks or set points to be customized to meet the need and makeup of each employee entered into the program and assigned a wearable device.
GUARDHAT's solution to workplace safety includes an emphasis on preventing an incident before it has an opportunity to surface. Establishing controlled access zones can restrict worker entry and avoid exposure. Geofences can be installed as needed. Additionally, controlled mustering can direct employees to safety through a series of alarms and mapping. Once again, customization is the key to success and, from its essential core, could serve the onshore and offshore oil and gas industries with enormous impact.
"The key solutions that would benefit onshore and offshore oil and gas are the sophisticated communication system and location tracking," says Doug Matthews, chief growth officer for GUARDHAT. "The user can create geofences or restricted zones, as well as allowable areas, as needed."
Wearables of Workplace Safety
GUARDHAT offers a variety of solutions in managing workplace safety, and the company enables its abilities through a variety of wearable tools. Its premier wearable product is the Communicator hardhat that meets all required specifications in all industries. It includes sensors that offer a full-circle view of situation awareness. Enabled with real-time positioning and proximity detection, the Communicator hardhat serves as a transport tool for GUARDHAT's response to lone worker management. Additionally, it provides a hands-free integration for audio and visual telecommunications. This capability allows for real-time transmission of what the wearer sees and can be transmitted to a central location for real-time viewing. Connectivity can be harnessed through Wi-Fi and even cellular networks.
The Finder hardhat is another wearable solution for companies needing to direct specific attention to location monitoring and tracking indoors and outdoors through the use of infrastructure beacons. It is equipped with an SOS panic button controlled by the user to request emergency assistance. Additionally, the Finder can be enabled to respond to geofencing capabilities to restrict or grant access where needed. The Finder can also serve as a communicating device that alerts the wearable that communicates incidents in other areas close in proximity. The fall detection and man-down alert capabilities provide a proactive solution in lone worker management.
Much like a series of personal gas detectors assigned to a work crew, the GUARDHAT solution of wearable hardhats is intrinsically safe and can be worn in hazardous areas. The system of hardhats includes battery packs and charging stations to ensure continued available use and connectivity.
GUARDHAT understands that different companies harness unique needs, so a variation in wearable products can meet individual demand. For those who see no immediate benefit in the audio and visual capabilities of the Communicator and Finder hardhats, the Scout wearable serves as an alternate solution to lone worker management and access control. Resembling a smartphone, the user can attach the Scout to their body and gain the protection of real-time geo-location. The Scout acts as a transmitter for evacuation and mustering, geofencing, man-down alerts and SOS capability like the hardhat products. It, too, can produce proximity notification of additional users nearby.
The incident management segment of the GUARDHAT technology can play a crucial role, especially in the oil and gas industry, where the workforce conducts tasks remotely and in hazardous areas. No one incident response directive can meet all needs due to the variation in surrounding factors.
"GUARDHAT's incident management piece is responsive or rule-based," says Matthews. "The user defines the specifics."
Enabling Platform
GUARDHAT's software acts as the engine that powers its vehicle of workplace safety. Its true capability finds a spotlight in its ability to function through on-site means or on any significant cloud-based PaaS provider services. Although highly developed and ready to be incorporated straight out of the box, the customization features are equally crucial to customize the wearables' features.
GUARDHAT's platform provides the communicating core to enable worker functions that include direct connectivity and management, data telemetry control to and from connected devices, data processing, condition detection, notifications, alerts, and data storage and analytics. Here all features of the various wearables are enabled and utilized to provide and retrieve customizable data of choice.
Known as SCC, GUARDHAT's Safety Control Center serves as a portal offering real-time monitoring and workplace safety response. It can provide visual representations and live maps with continual logging and analysis. System management duties can be assigned to an administrator for cultivating usage specifications for devices, users, maps and GIS functions.
The key feature to ensuring a safe work zone incorporates mapping to establish those geofences, lockout zones and other restrictive areas. Those designated zones are then communicated to the wearable devices to communicate to the actual worker. The actual workplace can be depicted through the mapping features and then dissected into segments of clearance and restriction as needed.
The bonus of descriptive analytics and reporting can shape key performance indicators to dictate changes and improvements where needed. Although loaded with standard features, this functionality is customizable, much like the entire platform, and management can call upon only the reporting features applicable to its needs. By customizing the dashboards, only the desired information can receive presentation by command.
The reporting aspect produces safety and compliance results to track effectiveness. Claim and incident data can also be followed and reported if desired. By utilizing the GUARDHAT software entirely, a measure of productivity can be gained, and when paired with compliance, a true and accurate assessment of workplace performance can be devised.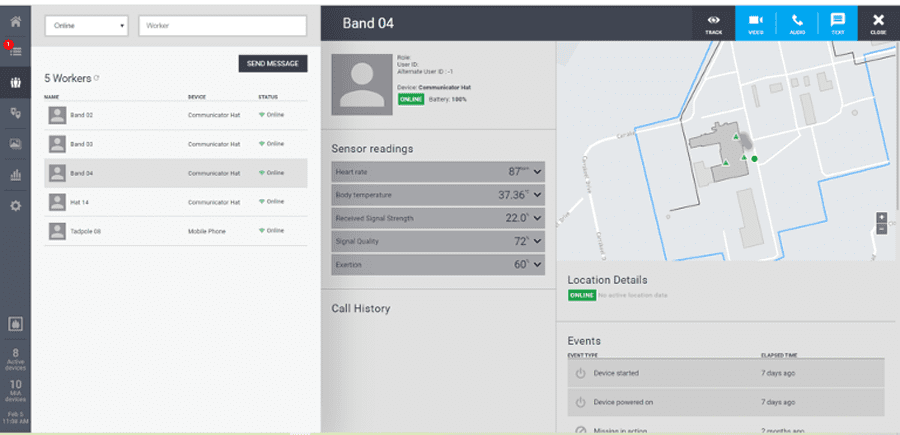 Mobility
GUARDHAT has etched its place in modern-day workplace safety with its remarkable functionality. The GUARDHAT Android app can provide location tracking and emergency notification features for a "man down" situation, SOS alerts, fall detection and location identification. It can harness an individual's Android cellular device to provide the same functionality as one of its intelligent wearables.
GUARDHAT's partnership forged between software and products catalyzes using its service in any situation to maximize workplace safety. While not suitable for areas where devices must be intrinsically safe, such as in the petrochemical industry, the app reigns as a suitable alternative when the everyday wearable does not fit the specific working scenario. Additionally, it can be used as a remote monitoring device paired with the Safety Control Center for managing a group of workers in the field.
Looking Ahead
The GUARDHAT team sees a future of minimal limitations in its products and services. The high level of customization and user ease make it a viable candidate for any industry where workplace safety must be managed and areas with a higher hazard potential exist.
Matthews describes GUARDHAT's database as a superhighway and the devices as information collectors. Further integration of these devices and the presentation of the data collected can advance and answer various callings throughout most workplace settings. The proactive segment of human condition monitoring will continue to be accomplished through new developing methods.
Noting the endless possibilities in human condition monitoring, Matthews says, "Information can be collected in many ways, including an armband under the clothes."
Headline photo: This is the control center where reported data is viewed and analyzed.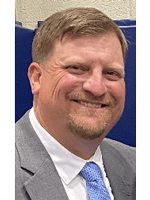 Nick Vaccaro is a freelance writer and photographer. In addition to providing technical writing services, he is an HSE consultant in the oil and gas industry with twelve years of experience. Vaccaro also contributes to SHALE Oil and Gas Business Magazine, American Oil and Gas Investor, Oil and Gas Investor, Energies Magazine and Louisiana Sportsman Magazine. He has a BA in photojournalism from Loyola University and resides in the New Orleans area. Vaccaro can be reached at 985-966-0957 or nav@vaccarogroupllc.com. 
3 Ways Technology is Going to Shape the Oil and Gas Industry
Free to Download Today
Oil and gas operations are commonly found in remote locations far from company headquarters. Now, it's possible to monitor pump operations, collate and analyze seismic data, and track employees around the world from almost anywhere. Whether employees are in the office or in the field, the internet and related applications enable a greater multidirectional flow of information – and control – than ever before.