While talent increases profitability, technology can accomplish the same, decreasing maintenance costs and extending equipment life. One Eye Industries (OEI) rewrites the script with its innovative technology that positively influences multiple business pillars. Its patented magnetic filtration process is a predictive maintenance tool that drastically improves and increases the reliability and sustainability of rotary equipment.
OEI has positively impacted many business sectors, and its reach to oil and gas proves diverse as magnetic filtration benefits the upstream, midstream and downstream arenas. With each sector being made up of an abundance of services and activities, OEI can reach all utilizing rotating mechanical parts.
"One Eye Industries' magnetic filtration technology services onshore and offshore applications," says Roger Simonson, One Eye Industries CEO. "We can benefit all applications of rotary equipment and increase sustainability and reduce maintenance costs."
Application
With an efficiency rating surpassing 99-plus percent, OEI uses a patented magnetic filter element to attract ferrous and non-ferrous wear particles that can destroy rotary equipment. This equipment can be found throughout the oil and gas unit and includes compressors, hydraulics, gearboxes, drilling rigs, completions, compression, fracking, pumps, natural gas and diesel engines, and other applications crucial to operations.
OEI magnetic filter elements can trap those wear particles down to four microns or below. Paired with a robust holding strength and available capacity, these filter elements can collect and store the tiniest of particles that, while unseen by the human eye, can ruin equipment and levy incredible sums of damage, resulting in costly equipment repair and an abundance of nonproductive time that depletes profits. While the typical filter element must be discarded, OEI products offer a life of 20 years or more. This lowers operating costs, improves the environmental footprint, and reduces touch points by decreasing maintenance cycles, lessening the number of replacement products and disposal fees accompanying the process.
With many reliability departments moving toward a predictive maintenance system, OEI offers an appropriate solution. OEI filter elements are installed upstream of the rotary equipment in the flow path. This allows for the capture of wear particles before they seize the opportunity to reach the protected equipment. By removing magnetic filter elements for inspections at specified intervals, reliability professionals can examine contaminant collection to measure potential failure possibilities. A filter element with minimal particles indicates equipment can continue to operate safely, while filters holding large quantities of contaminants indicate the need for service.
OEI magnetic filter elements surpass traditional filters in the number of applications possible. Where conventional filters typically hamper flow, OEI filters can be installed on suction lines on pumps without fear of cavitation.
"We install our filters on the suction side of pumps and capture contaminants before they reach critical components," says Simonson. This is important to prevent hydraulic system failure. The magnetic filters capture all the wear contamination shedding from the components and stop full system contamination that can cost serious dollars to clean and replace damaged components.
OEI technology is a solution for preventing varnish build up by the elimination of static charge flashing that burns the oil. Cleaning the fine iron and steel particles reduces oxidation opportunity, thereby reducing the level of harm due to varnishing. The oxidation process can attack special additives that prevent wear, corrosion and viscosity changes. Traditional filter mediums include paper, fiberglass and even polymer, and are subject to metal contamination causing worm holing and channeling of the oil. Contaminants can puncture these different conventional filters, but OEI filters remain unchallenged. Because they resist puncture, OEI filters avoid channeling where fluid escapes through those punctures and follows the path of least resistance.
According to Simonson, OEI filters can operate under high-pressure ratings between 150 and 10,000-plus psi. Their exposure to high heat knows little consequence with a 300 to 600 degrees Fahrenheit temperature rating. Encased in stainless steel, OEI filters prove durable and capable, making them much more sustainable as a usable product with dependable characteristics.
While OEI filters can remain in use for extended periods, they have been subjected to a cleaning cycle that, in the majority of cases, takes place every six to 12 months. After removing the filter from the element, the particles can be wiped clean and directed to a sample bag. The particulates can then be sent to a laboratory for analysis. This process further enhances a predictive condition-based maintenance plan that can test contaminants and determine where service is needed based on contaminant makeup and quantity.
Simonson reasons that OEI's product line includes various sizes for different applications. While the oil and gas industry employs an abundance of staged rotating equipment, magnetic filtration technology can significantly enhance oil and gas industry equipment performance and reduce maintenance costs that compromise profits. As a result, OEI offers solutions throughout the industry and has performed case studies to verify impressive results.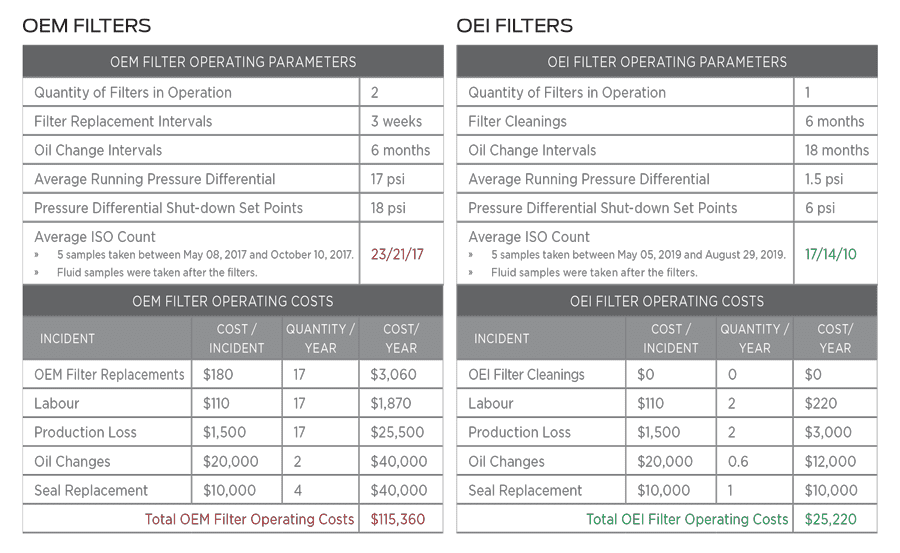 Case Study: New Stimulation Pumper
OEI offers continual customer support and seeks solutions in any capacity possible. According to Simonson, the company seized the opportunity to conduct a case study with Pioneer Natural Resources on new stimulation pumpers, looking to extend the PM from 300 hours to 600 hours. This was achieved and resulted in reduced touch points, extended engine and gear oil life, extended fuel system maintenance, and extended coolant system operational life. Traditional filter solutions are challenged to capture wear contaminants under five microns. OEI's magnetic filtration technology is the only filtration technology that leans wear contamination down to and below one micron in sizes preventing unanticipated nonproductive time and unplanned maintenance activities.
When Simonson's technology was initiated on the new frac pumper, Pioneer used 3512 CAT engine oil and fuel. An OEI magnetic filter scrubber was installed to clean the lubrication oil and prevent pump, bearing and drive end wear. OEI applied its ADD-Vantage 9000 magnetic filters on the fuel side to improve burn efficiency and reduce emissions. The same model filter was placed at the oil side to prevent bearing and shaft wear. Additionally, OEI applied attention to the engine's coolant with a magnetic filter Y-strainer to contain degraded glycol and plugging of radiators. The magnetic filters also provided a solution to potential pump, coolant jacket and seal failure.
The case study yielded benefits discovered early on in the application. The equipment operated for 300 hours before contaminants were removed from magnetic filtration applications on the engine coolant, oil, fuel and transmission fuel. After analyzing the results, planned maintenance intervals realized an extension from 300 to 600 hours. This extension allows for a decrease in nonproductive time associated with maintenance stops and a reduction in energy exerted.
"Our case studies are a great way to approach those who are skeptical of our technology before understanding its effects," says Simonson. "When put into service, the cost savings realized are almost immediate, and seeing is believing."
Case Study: Natural Gas Screw Compressor
OEI answered the call and offered assistance to an intermediate oil and gas producer in Western Canada. Black powder contamination transferred to the lube oil during the compression process had plagued its natural gas facility. A case study was conducted comparing the lube oil management costs with a compressor with OEM traditional filters on one 1500-horsepower natural-gas-flooded screw compressor and one with OEI magnetic filter.
Premature wear frequents these systems because of their exposure to black powder wear contamination. OEM three-micron filters were being used, but had a small holding capacity resulting in short life cycles of only three weeks. When the compressor was placed in bypass, a high-pressure differential would cause it to shut down. Additionally, in some instances, paper filters would completely disintegrate, resulting in costly cleanup applications of complete losses of lube oil on the ground.
OEI installed a 24-inch high flow ADD-Vantage 9000 filter on the compressor lube oil system. The new plan to enact success included contaminant elimination in the lube oil system, reducing component wear in the compressor and the pumps, providing life extension, and improving performance. OEI also intended to reduce the cost factor associated with filter cartridge replacement.
After instituting the OEI solution, the final results were undeniable and staggering. While the company had been using two OEM filters in operation, OEI only used one. The OEM filters required replacement every three weeks. OEI countered with filter cleanings every six months, eliminating replacement. OEM filter use resulted in six-month oil change intervals, but OEI magnetic filter use extended oil life with the need to be changed at 18-month intervals.
OEI's technology allowed for a decrease in pressure needed for operation. A reduction in pressure correlates to a decline in energy, which enables cost savings. The average running pressure differential was reduced to 1.5 psi, which had been 17 psi with OEM filter use. OEI magnetic future use impacted pressure differential shut-down set points reducing the rating from 18 psi to 6 psi.
The OEI case study resulted in an overall cost difference that proved staggering. The customer had been paying $3,060 per year for filter replacements. OEI filter use eliminated that cost factor. The labor associated with filter replacements and production loss equated to $27,370.00 with the help of OEM filters. The OEI application only measured $5,200.00 in filter replacement labor and production loss.
The final comparison addressed oil changes and seal replacement, which racked up $80,000 in OEM costs. After instituting the change to OEI equipment, the customer only experienced $22,000 in prices for the same materials. In the end, not only did the OEI application yield a better standard of cleanliness, the total cost savings far outweighed what was produced on the OEM filter side. While traditional filters and methods totaled $115,360 in total costs, the OEI application provided a significant savings of $90,140 for a total expenditure of $25,220.
OEI's magnetic filtration technology enabled significant savings in maintenance and repair costs. Its benefits, however, were extended substantially. By reducing the cycles of filter change and equipment repair, OEI's magnetic filtration minimizes potential exposure to incidents and injury. Additionally, that same reduction in activity conserves energy, contributing to reducing the carbon footprint. Technological benefits surpass just those of a fiscal nature.
Supplying Solutions
Roger Simonson recognizes endless possibilities when applying the OEI technology solution. Boundaries are minimal and hurdles offer no challenge. The ability for magnetic filtration to be universal in application means it can be used in multiple areas of business. Its use not only extends equipment life but can eliminate maintenance costs and associated fees.
The repeat is found in both similar and different industries. OEI carries great confidence in magnetic filtration's ability to perform and yield positive results. Its ability to save money and time safely and efficiently fits nicely in the onshore oil and gas realm, and can provide similar results in offshore applications.
"When you have a hydraulics system on the sea floor, and a valve gets damaged, the logistics aspect associated with the repair labor can be astronomical," says Simonson. "Our technology can be applied to these systems and save thousands of dollars in equipment repair and replacement causing non-productive time."
No matter whether the system needs improvement, OEI possesses the ability, skills and knowledge to enact a success plan. Simonson feels magnetic filtration reigns as the perfect weapon in a pre-emptive condition based maintenance arsenal ready to be activated to improve equipment life and increase the bottom dollar. The OEI technology not only filters out the particles that seek to ruin equipment, but also filters out expensive nonproductive time and potential exposure to leave customers winning on all fronts of equipment life. Change is the biggest challenge to employment of technology.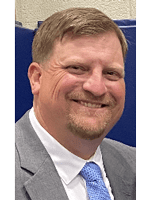 Nick Vaccaro is a freelance writer and photographer. In addition to providing technical writing services, he is an HSE consultant in the oil and gas industry with twelve years of experience. Vaccaro also contributes to SHALE Oil and Gas Business Magazine, American Oil and Gas Investor, Oil and Gas Investor, Energies Magazine and Louisiana Sportsman Magazine. He has a BA in photojournalism from Loyola University and resides in the New Orleans area. Vaccaro can be reached at 985-966-0957 or nav@vaccarogroupllc.com. 
3 Ways Technology is Going to Shape the Oil and Gas Industry
Free to Download Today
Oil and gas operations are commonly found in remote locations far from company headquarters. Now, it's possible to monitor pump operations, collate and analyze seismic data, and track employees around the world from almost anywhere. Whether employees are in the office or in the field, the internet and related applications enable a greater multidirectional flow of information – and control – than ever before.