As the landscape of pipeline regulations continues to evolve, operators of upstream and midstream pipeline networks are challenged with managing aging assets while using limited resources. In the face of increased workloads, pipeline operators are in need of fresh, agile approaches that enable them to address the specific needs of diverse stakeholders, including engineers, field operators, C-suite executives and regulatory bodies. Often this involves costly third-party firms' assistance or using solutions geared more toward the needs of transmission or distribution operators. However, this situation can also be tackled with an innovative solution that creates an ever-improving record of truth that integrates historical records, public data and internal insights, so that pipeline operators can create a comprehensive and robust inventory of pipeline information. A comprehensive record of truth also helps expose underlying pipeline integrity challenges, while aiding in the prioritization of potential threats.
Regulatory Changes
Upstream gathering lines, which historically have often been seen as lower-pressure and lower-risk pipelines, typically characterized by smaller diameters, and often situated in rural areas with sparse populations are, in some instances, being reclassified and more scrutinized. With the rise of hydraulic fracturing causing increased flows and pressures in many systems, along with changes in population impacting class locations, the industry is facing regulatory adjustments (DOT 2021). Similarly, midstream operators are facing heightened demands from PHMSA and other regulatory bodies.
To meet the growing scrutiny imposed by regulatory bodies, the market demands solutions that uphold integrity while delivering tangible value to both upstream and midstream operators, all in an economically feasible manner. The importance of effectively visualizing pipeline data, leveraging tools for precise calculations, and comprehending the larger picture concerning complex pipeline networks has never been more pronounced.
Transforming Pipeline Management
For over two decades, Cenozon has been closely collaborating with pipeline operators to develop solutions tailored to the specific needs of both gathering and midstream operators. Cenozon's flagship solution, Pipeline Integrity Risk Manager (PIRM), is the culmination of these efforts.
PIRM revolutionizes pipeline management by offering a user-friendly interface and rapid deployment, striking a balance between robustness and usability. Its strength lies in mitigating the likelihood of pipeline incidents, executing risk calculations, pinpointing and prioritizing critical tasks, simplifying compliance, streamlining processes, and optimizing pipeline integrity mitigation in response to threats such as corrosion, geohazards, fire or flooding.
GIS Map overlays provide operators with an intuitive and comprehensive view of pipelines and facilities. Coupled with PIRM-generated interactive field data capture schematics, operators gain a thorough understanding of operational asset alterations over time.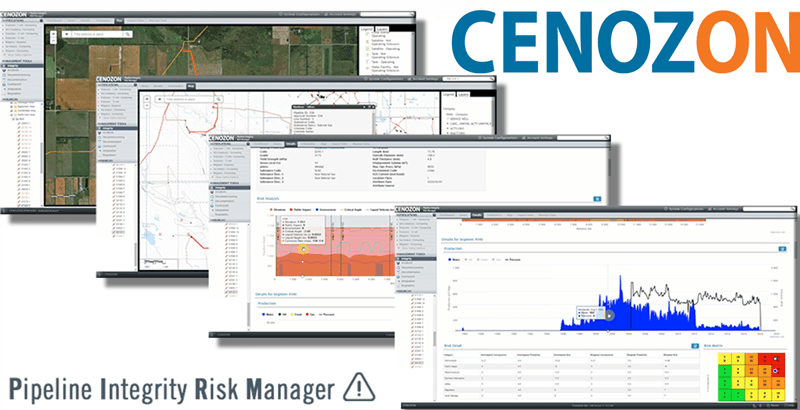 Powering Up Results
This cloud-based SaaS offering ensures secure, scalable and real-time access to the system. PIRM is tailored to the unique workflows and requirements of each organization, emphasizing adaptability and efficiency. At the core of PIRM is its intelligent auto-connectivity of linear pipeline assets. Its capabilities encompass GIS mapping and asset visualization, understanding asset attributes, and allow for the integration of system data, including SCADA records, the incorporation of chemical and pigging paths and ILI reports.
Using a digital twin, such as those realized through Cenozon's PIRM, allows operators to unlock a realm of economic opportunity. Companies gain a comprehensive understanding of assets, utilization and future maintenance projections. McKinsey & Company estimates that digital twin technologies could boost revenue by up to 10 percent and enhance product quality by up to 25 percent (2022). PIRM's customers back this up saying its implementation has significantly added to reducing pipeline incidences. Maximizing the value and safety of one's pipelines may require looking at old problems by leveraging new technologies like digital twins.
PIRM's functionalities can be further enhanced through connections, leveraging existing in-house and third-party data via a robust REST API, or through access to databases or data lakes. In addition, Cenozon's extended suite of services can also enhance PIRM's prowess:
FIND: A field-centric application that provides real-time office access to field documentation, photos and reports, efficiently supporting frontline workers. FIND was designed from the ground up to empower those on the front lines, enhancing their efficiency and effectiveness.
InSight: An advanced analytical tool that easily consumes all ILI data formats and then helps guide users through the assessment process. InSight automates quality control, multi-run alignment, feature matching comparisons, sentencing rules, GIS visualization of features, and dig management. InSight transforms raw data into actionable insights, optimizing decision-making processes.
As your pipeline operations and engineering teams navigate the complexities of today's regulatory landscape, look towards the innovative power of Cenozon's PIRM, FIND and InSight solutions.
Welcome to the Future of Pipeline Integrity
Empower your organization to overcome asset management and integrity challenges. Embrace innovation, mitigate risk, and supercharge your growth with Cenozon's transformative solutions. Visit www.cenozon.com today and learn how Cenozon can empower your pipeline operations.
Sources
Brossar, M., McKinsey & Company (2022), Digital twins: The art of the possible in product development and beyond.
Brown, T., Department of Transportation (2021) 63266 -Pipeline Safety: Safety of Gas Gathering Pipelines: Extension of Reporting Requirements, Regulation of Large, High-Pressure Lines, and Other Related Amendments.
Mark L. Woynarowich is a seasoned professional with over two decades of invaluable experience within the oil and gas industry. With a journey that has taken him from the frontlines of field operations to strategic management roles, Woynarowich has honed his skills and deepened his understanding of the sector's complexities.
In his current role as Director of Operations at Cenozon Inc., Woynarowich leverages his extensive operational knowledge and grassroots upbringing to foster a unique perspective that few can offer. His journey, marked by hands-on experience and unwavering dedication, has positioned him as a key player in accelerating an industry that is rapidly embracing digital transformation.
Throughout his career, Woynarowich has consistently connected with the lifeline of organizations: the operators. His ability to understand their challenges, aspirations and the intricacies of field operations has been instrumental in driving results and promoting operational excellence.
As a visionary leader, Woynarowich remains committed to empowering operations and supporting their vital role in the industry's growth. His passion for connecting the dots between field expertise and digital innovation underscores his mission to propel the oil and gas sector into a more efficient, safe and sustainable future.
Woynarowich is not just a director of operations; he is a catalyst for positive change, bridging the gap between tradition and transformation, and ensuring that the industry continues to thrive in an era of rapid evolution.
3 Ways Technology is Going to Shape the Oil and Gas Industry
Free to Download Today
Oil and gas operations are commonly found in remote locations far from company headquarters. Now, it's possible to monitor pump operations, collate and analyze seismic data, and track employees around the world from almost anywhere. Whether employees are in the office or in the field, the internet and related applications enable a greater multidirectional flow of information – and control – than ever before.