The modern economy is experiencing an unprecedented surge in the demand for power, driven by the rapid advancement of industries such as industrial processes, data analysis, artificial intelligence, oil and gas exploration, and mining. According to the EIA, consumption of all forms of energy is projected to increase up to 15 percent by 2050. This escalating need for energy goes hand in hand with the urgent necessity to curb emissions and reduce our carbon footprint.
As environmental concerns gain greater importance, the power generation landscape is confronted with a crucial challenge: How to achieve stringent emissions reduction goals while simultaneously meeting the escalating demand for energy. This challenge is particularly evident as industries strive to increase their output while trying to work within the limitations of available power and resources. Fortunately, the combination of new technology and strategic expertise has paved the way for effective solutions.
One solution that stands out is the transition from traditional diesel fuel to the use of natural gas, a cleaner and more environmentally friendly alternative. In this article, we will delve into the significance of this shift by comparing the costs, emissions profiles, and overall benefits of these two fuels for power generation solutions. In addition, we will explore how partnering with an industry leader in low-carbon temporary power solutions can offer a pathway to lower costs and emissions for your projects.
Understanding the Need for Emission Reduction
In a world where environmental issues are gaining significance, the global demand for cleaner power solutions is essential. Industries across sectors are being held accountable for their carbon footprint, prompting a collective shift towards sustainable practices. Governments, regulatory bodies and communities are driving a massive change in power generation, making significant emissions reduction a top priority. At the heart of this movement is the concept of environmental, social and governance (ESG) responsibility, where businesses are expected to not only deliver economic value but also contribute positively to society and the environment.
Regulations at federal, local and state levels are aligning with this growing need for lower emissions, requiring changes in the energy market. As emissions standards become more rigorous, industries are faced with the challenge of maintaining or even increasing their output while adhering to these new requirements. The traditional reliance on diesel fuel, which has efficiently powered industries for decades, is facing heightened scrutiny due to its considerable environmental impact. Diesel not only releases contaminants that contribute to air pollution and climate change but also presents operational challenges, such as water contamination due to inadequate storage or handling practices, which is also relevant when considering the challenges posed to turbines.
In this context, finding a power generation solution that strikes a harmonious balance between meeting output demands and drastically reducing emissions is paramount.
Natural Gas for Lower Overall Cost
The economics of power generation play a crucial role in shaping industry choices, and as we navigate the path toward lower emissions, the cost factor becomes increasingly important. Natural gas, notably linked to the Henry Hub pricing mechanism, has emerged as an impressive contender in delivering power solutions that are both environmentally responsible and economically advantageous.
Natural gas contributes to cost savings in multiple ways. One of the driving forces behind the appeal of natural gas is its price stability. Henry Hub, a benchmark for natural gas pricing according to Investopedia, provides a relatively stable foundation for cost projection, reducing the uncertainties often associated with volatile energy markets. Its cost per unit of energy is generally lower than that of diesel, providing an immediate financial advantage.
Furthermore, the availability of natural gas has expanded significantly over the years, facilitated by the establishment of new pipelines that crisscross the country and span the globe. The concept of compressed natural gas (CNG) and liquefied natural gas (LNG) has revolutionized the transportation and distribution of natural gas, making it feasible to deliver this resource virtually anywhere with minimized infrastructure investment. This increasing accessibility to virtual pipelines has transformed natural gas into a reliable and easily procurable resource for power generation, enhancing its appeal as a viable alternative to traditional diesel, most often at a lower cost.
Conversely, diesel fuel, often associated with unpredictable price fluctuations, poses a challenge for industries aiming to curb operational costs. The "rack price" concept and the variation in off-road diesel prices can introduce considerable financial uncertainty, leading to operational budget volatility. While diesel generators boast commendable fuel efficiency, their overall cost-effectiveness is compromised by the persistent instability of diesel fuel prices. Below, you can see the difference in cost between temporary power equipment utilizing diesel fuel versus using natural gas as the fuel source.
Natural Gas Versus Diesel Fuel Emissions
As we delve deeper into the comparison between natural gas and diesel fuel, it is essential to compare the emissions profiles of these two power generation options. When assessing emissions, natural gas demonstrates a significant advantage over diesel fuel. Natural gas combustion produces lower carbon dioxide (CO2) emissions and substantially lower levels of other harmful pollutants. The reduction in these emissions aligns well with the rigorous emissions regulations and environmental standards imposed by federal, state, and local authorities.
Further insight into emissions reduction can be gained by comparing the emissions profiles of reciprocating generators and turbines, which are both commonly utilized in power generation. By evaluating the emissions attributes of these power generation technologies in the context of natural gas and diesel fuel, industries can make informed decisions that align with their environmental and operational objectives.
Beyond the emissions data, it's essential to consider the broader environmental impact of these power generation options. Diesel presents a notable environmental risk in the form of fuel spills, which can have severe consequences for ecosystems, wildlife and communities. In contrast, natural gas mitigates this risk, offering a cleaner and safer option with a significantly reduced potential for environmental harm.
Economic and Operational Benefits of Natural Gas
The transition to natural gas as a power generation solution not only aligns with emission reduction objectives, but also presents compelling economic and operational advantages that resonate with industries seeking sustainability without compromising financial viability. We've previously covered the improvement of overall cost by using natural gas as a fuel source. This cost-efficiency can significantly impact operational expenses, contributing to improved financial performance over time.
Beyond initial cost considerations, comparing the operational costs and maintenance requirements between natural gas and diesel fuel solutions offers a notable difference. Natural gas power generation solutions require less frequent maintenance procedures and intervals when compared to their diesel counterparts. Preventative maintenance for natural gas solutions, in some cases, is less demanding and more cost-effective, translating to reduced downtime and maintenance-related expenses. In addition, natural gas sidesteps the water-related or algae complications inherent in traditional diesel fuel use, mainly due to storage and handling.
The consistent cost per unit of energy, coupled with lower maintenance demands, culminate in substantial financial advantages over the lifespan of a project. These advantages are accentuated when partnering with an experienced temporary power solutions provider like Distributed Power Solutions (DPS). The comprehensive expertise and proven track record of DPS ensure that industries not only realize the cost-saving potential of natural gas, but also capitalize on customized solutions that align with their unique business goals or demands.
Designing Low Emissions Solutions
Choosing the right temporary power solutions partner is critical for designing economical low emissions solutions. Selecting a partner with the right knowledge, engineering, experience, and reliable/compliant fleet is essential. The ideal company will have a proven track record in understanding low emissions requirements in your industry, delivering engineered solutions, and deploying reliable equipment along with product support/service.
Distributed Power Solutions (DPS) employs a team of experts in designing turnkey power solutions that prioritize both emissions reduction and cost-effectiveness. Our team consists of highly skilled technical experts proficient in the power solutions industry. Their technical expertise in island mode applications, microgrids, combined heat and power systems (CHP), CCGT, and simple cycle gas power facilities sets us apart from the competition. In an industry where reliability and efficiency are paramount, our team's extensive knowledge and experience ensures that we deliver the best power solutions to your projects, crafted with meticulous attention to emissions reduction and cost-effectiveness.
Each project presents a unique set of challenges and opportunities. DPS approaches each job with a dedication to customization and overall customer satisfaction. Through in-depth consultations, DPS collaborates closely with clients to understand their objectives, constraints and preferences. This client-centric approach ensures that the final solution optimally balances environmental considerations, operational efficiency and cost-effectiveness to further bring value to customers.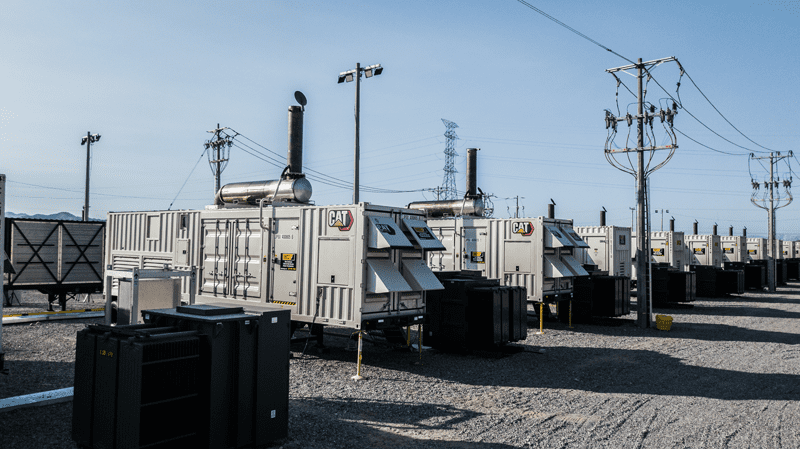 Case Study
An oil and gas company contacted DPS to provide temporary power to their electric submersible pumps (ESPs) until they could get utility power. Across seven acres, the operation has two separate well pads located adjacent to each other, with 11 wells, each with an ESP to power.
As part of our turnkey service, DPS completes site visits to assess a customer's setup and provide customized solutions based on the project's specifications.
While performing the site visit, our team noticed that the customer had installed its highline poles and pole-mounted transformers, and cable was already running to the ESPs. DPS determined that setting up a microgrid would be the best option as we could centralize all the units. A microgrid was also beneficial because the units were running on compressed natural gas (CNG). Therefore, having all the units together would eliminate the need for two CNG setups, which would require lots of fuel piping and/or lots of cabling.
Setting up this way would also help reduce downtime when they are ready to connect to the grid. With their previous setups, they used smaller gen-sets at each ESP, so when they connected to the grid, they would have to remove the generator leads from the ESP disconnect and reconnect the permanent cable. With our setup, they will only have to pull four fuses from the pole cut-outs and have the utility tie-in.
Additionally, DPS's lean burn natural gas generator, paired with a CNG setup, which has greater efficiency than rich burn engines, provided the customer with additional savings on fuel costs.
Solutions
In the pursuit of a cleaner and more sustainable energy future, the choice between power generation options holds immense significance. Natural gas is a compelling solution that not only aligns with stringent emissions reduction targets, but also delivers a host of economic and operational benefits.
Choosing between diesel and natural gas power generation depends on specific project requirements, regional availability, cost considerations and environmental goals. Diesel potentially offers greater flexibility but comes at a higher operating cost and environmental concern. On the other hand, natural gas provides a cleaner-burning alternative with cost advantages, though it may require some specific infrastructure that can easily be deployed.
As a trusted partner in power solutions, DPS is experienced in helping customers thoroughly assess these factors, which help guide the selection process, ensuring a suitable and sustainable power generation solution. Our tailored approach to each project, coupled with an understanding of emission reduction requirements and fuel efficiency, ensures that industries are well-equipped to make informed decisions while looking for more efficient power generation options.
Headline photo: DPS offers flexible, customized solutions to get our customers the best solutions for their project needs. We work with LNG and CNG suppliers to provide fuel-efficient natural gas even when your project does not have access to a pipeline nearby. Photos courtesy of Distributed Power Solutions.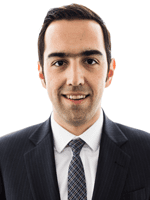 David Velosa is the Director of Commercial Operations for Distributed Power Solutions (DPS Energy). He has over 10 years of experience in the mobile power generation market, bringing reliable and cost-efficient solutions to various markets on the global stage, including mining, oil and gas, industry and utilities. With a bachelor's degree in electrical engineering and a master's in business with a focus on finance, he understands the financial implications of power shortfalls, not only on loss of revenue, but also on additional costs due to a loss of power.
3 Ways Technology is Going to Shape the Oil and Gas Industry
Free to Download Today
Oil and gas operations are commonly found in remote locations far from company headquarters. Now, it's possible to monitor pump operations, collate and analyze seismic data, and track employees around the world from almost anywhere. Whether employees are in the office or in the field, the internet and related applications enable a greater multidirectional flow of information – and control – than ever before.