As stated in the monograph, America Needs America's Energy and Its Natural Resources, all avenues of energy should be researched and analyzed for America's ultimate energy results. In the monograph, several areas of energy are highlighted. One is solar power.
The following excerpts detail the pros and cons of the solar power industry:
"Without the sun, life could not exist on Earth. Plants use the sun's light to make food and, hundreds of millions of years ago, decaying plants produced the coal, oil and natural gas that we use today. Solar energy uses technology to capture the power from the sun's rays…"
The pros of solar findings in 2012: Solar energy is secure, solar energy is normally reliable in certain areas of the country, and solar energy is clean. The cons included the fact that solar energy can be costly to produce, and solar energy is largely financed by government incentives.
Updated Research and Findings
Each day, the earth is bombarded by many different spectrums of light and energy from outer space. Amazingly, that energy can be captured, stored and transformed into usable electricity for modern life. Photos varying in wavelength, commonly referred to as sunshine, are the solar energy particles that warm the earth and provide light. Earth receives nearly 200,000 times the globe's entire daily electric-generating capacity in the form of solar energy every day. As a renewable energy source, solar energy technologies are used to harness a portion of this abundant power to generate electrical power and heating. While this source of energy is plentiful and powerful, the key questions are how we capture, store and use it.
Future of Solar
While there are still challenges, the future of solar energy is bright. The U.S. Energy Information Administration (EIA) projected that, in 2022, 46 percent of the new utility-scale electric generating capacity in the United States would come from the solar projects. Public sentiment will likely continue to influence public and private investment to grow the share of solar energy in the American energy grid. PV cell technology and battery storage innovations will continue to drive the continued scaling of solar energy. Globally, the push for solar energy continues as policymakers and governments wrestle with an energy transition and reduction in emissions. From 2018 – 2020, China installed more solar capacity than most of the world combined. Solar capacity in Europe and the United States is increasing as well.
For updates and research, go to the monograph, America needs America's Energy and Its Natural Resources. The monograph eBook version can be found on barnesandnoble.com and Amazon.com.
In order to maximize America's energy strengths, the oil and gas industry will be vital, along with implementation of various forms of energy to maximize America's energy results!
Company updates: I have written about several companies in the past, including Ripcord and Align Energy Solutions. Both companies have new products and services to provide for the energy industry. An upcoming column will highlight both of these companies' efforts. Go to ripcord.com and alignenergysolutions.com for additional information.
---
Sherwood Forest Heartland Emmy Nomination
Mark and Nancy Stansberry attend the Heartland Emmy Gala recently. Stansberry, producer, was nominated for the production of Sherwood Forest: Top Secret, a historic WWII documentary based in the oil fields of Sherwood Forest, England.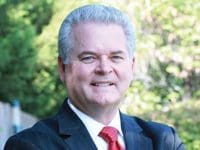 Mark A. Stansberry, Chairman of The GTD Group, is an award-winning author, columnist, film and music producer, radio talk show host and 2009 Western Oklahoma Hall of Fame inductee. Stansberry has written five energy-related books. He has been active in the oil and gas industry for over 44 years, having served as CEO/President of Moore-Stansberry, Inc., and The Oklahoma Royalty Company. He has served as Chairman of the Board of Regents of the Regional University System of Oklahoma, Chairman 2016-2017 of the Gaylord-Pickens Museum/Oklahoma Hall of Fame Board of Directors, Lifetime Trustee of Oklahoma Christian University, and Board Emeritus of the Oklahoma Governor's International Team. He has served on several public and private boards. He is currently on the advisory board of IngenuitE, Inc.
3 Ways Technology is Going to Shape the Oil and Gas Industry
Free to Download Today
Oil and gas operations are commonly found in remote locations far from company headquarters. Now, it's possible to monitor pump operations, collate and analyze seismic data, and track employees around the world from almost anywhere. Whether employees are in the office or in the field, the internet and related applications enable a greater multidirectional flow of information – and control – than ever before.