Emmanuel Sullivan: Tell us about your current role in your organization, as well as how you found your job.
Mohit Kumar: I am a Location Account Manager based in Anchorage, Alaska. I work for Schlumberger (SLB), the largest oil and gas service provider in the world. In this role, I am responsible for developing the accounts in my location and growing the SLB business. One of my key areas of expertise is developing business strategies and creating innovative commercial models that create value for both us and our clients.
Before moving into this role, I was the Integration Project Manager and spearheaded more than 10 business lines to lead the integration projects.
I am a petroleum engineering graduate with more than 14 years of experience in oil and gas drilling and completion operations. I was recruited directly from my university during campus placement by my current organization. I began my career as a field engineer in India.
ES: What inspired you to start a career in the oil and gas industry? How did you decide to become an oil and gas engineer?
MK: I come from a very humble background. Since my father was a farmer, I spent my childhood in a small, remote village in India. Growing up on a farm, I was always curious about energy and its impact on our day to day life. After qualifying for IIT-JEE (the toughest engineering entrance exam in the world), I chose to study petroleum engineering at the Indian Institute of Technology (Indian School of Mines, abbreviated ISM), Dhanbad. I chose this institute as it is the most prominent engineering college in India for earth sciences. During my university days, I did several educational tours and projects in oil and gas fields. I was truly inspired by the scale of operations and technical and operational complexities. This encouraged me to pursue a career in the oil and gas industry. When I reflect on my career, I feel privileged to have become part of this industry, helping bring a positive impact on humanity.
ES: How valuable was it to have the university experience? Has it helped you excel in the workplace where employees come from many diverse backgrounds?
MK: As I mentioned, I graduated with a petroleum engineering degree. This laid the foundation to kickstart my career in this industry. Apart from the engineering know-how, the soft skills which I developed during my university internships such as teamwork, troubleshooting, conflict management, and leadership helped me excel in both the field and the office. I also learned problem solving with the data driven and structured framework approach, which helped me excel in front of clients.
ES: What was it like transitioning to the corporate environment? What would you tell current students who are about to make that same transition?
MK: Transitioning to the corporate world was an exciting journey. I was fortunate to join my current organization, which is well-known for its fixed-step training in the industry that is similar for all people with an engineering background. The rigorous onsite training program and opportunity to learn from industry stalwarts helped me develop resilience and integrity. That training still helps me in conflict management and leading the team.
My advice for current students is to learn more about the industry by meeting experienced people through various events and conferences organized by Society of Petroleum Engineers (SPE) and other societies. Networking is extremely important in our industry. Always choose the organization that resonates with your interests, career goals and objectives. And never be afraid to challenge the status quo.
ES: What roles did mentors play in your professional development? Does the industry have any mentorship programs to guide students to young professionals into the oil sector?
MK: I was fortunate to find good mentors during my early career who shaped who I am today. So, yes, mentorship plays a significant role in anyone's professional development. Nowadays, most organizations have in-house mentorship programs. Also, SPE has an e-mentor program that is very beneficial for current students. In this program, they can choose a mentor from the industry and get advice and develop professional relationships. I have been heavily involved in this mentorship program and have mentored several students and young professionals. I truly believe that finding a good mentor can be extremely helpful for anyone.
ES: The oil and gas industry has lots of conferences and events. Have you attended any of them? If so, how useful do you find them and what's your takeaway?
MK: I always take time to attend these events and conferences every year as they provide a great platform to meet great minds across the industry. Recently, I attended an SPE event in Anchorage and I got to meet Mr. Med Kamal, SPE president, and fellow emeritus at Chevron. This also provides a great platform for networking in the industry. The oil and gas industry is small and networking plays an important role in growing your career. These events are a great platform to see the work of others and the latest trends in the industry and display your work to the world. They have always provided me with a new perspective through industry leaders' vision.
ES: What knowledge or skills do you think young professionals need to succeed in today's oil and gas industry?
MK: We need critical thinkers with new ideas and approaches who can challenge the status quo. Engineering skills are always in demand and are important in the digital oil field space. Along with the oil and gas domain knowledge, students and young professionals need to have data analytics and data engineering skills. The world is moving toward digitization and so is the oil and gas industry. These digital skills will come in handy in making data driven decisions in key areas such as risk management, efficiency and forecasting. Another important skill is around sustainability. Learn ways to develop sustainable solutions as the onus is on our industry to meet the emission goals. Apart from these technical skills, I always look for team players who want to learn and contribute, but who are also always challenging themselves and those around them to improve and take their work to the next level.
ES: Any advice for our readers who are just joining the energy industry?
MK: Oil and gas is a cyclical business so be prepared for the various ups and downs. I, myself, have seen four downturns in 14 years. The ability to work in a team environment and be resilient and adaptable, even in stressful times, will make you stand out. Always be ready to learn new things; the industry is changing continuously. With the onset of data and AI, today's technical skills may not be that beneficial in the future, so always take the time to learn as much as you can and take advantage of every possible opportunity.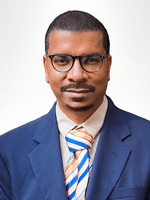 The CEO of U.S. Energy Media, Emmanuel Sullivan is a technical writer who has built up his profile in the oil and gas industry. He lives and works in Houston, where he publishes Oilman and Oilwoman on a bimonthly basis, and Energies quarterly, distributing the magazine to energy thought leaders and professionals throughout the United States and around the world. At a time when technology is rapidly changing, he provides an invaluable service to oil & gas, and renewable energy executives, engineers, and managers, offering them both broad and specific looks at the topics that affect their livelihoods. Sullivan earned his BA in Communications at Thomas Edison State University and his MA in Professional Writing at Chatham University. 
3 Ways Technology is Going to Shape the Oil and Gas Industry
Free to Download Today
Oil and gas operations are commonly found in remote locations far from company headquarters. Now, it's possible to monitor pump operations, collate and analyze seismic data, and track employees around the world from almost anywhere. Whether employees are in the office or in the field, the internet and related applications enable a greater multidirectional flow of information – and control – than ever before.