As the oil and gas industry recovers from the COVID-19 driven demand crisis of 2020, companies are leaning more and more on the convergence of business strategy with technology to fuel the post pandemic recovery and provide a foundation for innovation and transformation.
Chevron recently reported annual profits of $15.6 billion, making 2021 its most profitable year since 2014. In announcing the earnings, Chevron CEO, Mike Wirth, said, "In 2021, we delivered record free cash flow and accelerated our progress toward a lower carbon future. We're an even better company than we were just a few years ago. We're more capital and cost efficient, enabling us to return more cash to shareholders."
ConocoPhillips Chairman and CEO, Ryan Lance, announcing record Q3 2021 earnings recently attributed the results to delivering on cost synergies and "peer-leading" returns on capital driven in part by "strong operational performance across the company's asset base, including successful planned maintenance turnarounds."
A common theme between oil and gas organizations that have successfully navigated the most recent downturn is the focus on operational efficiency and managing cash flow. In the past 10 years (and beyond) there have been multiple downturns in the oil and gas industry. These downturns were traditionally addressed through various "operational efficiency" measures which invariably led to deep cost cutting and layoffs, all of which ultimately did little to avert the next crisis: With the added complexity of oil and gas companies now being under intense pressure to engage in the energy transition, what then is making this recovery different from past ones?
Oil and gas players that successfully navigated the COVID-19 crisis did so because they were able to bring about transformative change through the marriage of their business operating models and digital technology: An IBM survey of executives found that 60 percent of organizations accelerated their digital technology investments during the COVID-19 crisis, and 55 percent of organizations permanently revised their organizational strategies.1 But in today's world, a slowly evolving business strategy is no longer enough to ensure companies are able to thrive and maintain a competitive edge against existing and disruptive competitors. Digital technology is now seen by many CEOs and executives as the competitive differentiator that can help companies drive the agility and flexibility needed to adapt and evolve at an accelerated pace.
Oil and gas companies are capitalizing on the interplay between business strategy and digital technologies to reduce operational costs and to reimagine their business models. Technologies such as IoT, cloud, AI and data analytics are creating a strong digital core that allows companies to lower operating costs through better visibility of their assets, create streamlined, optimized core processes and bring visibility to operations through data for powerful, real-time decision making capability. And companies that are investing in integrated digital technology are seeing the returns: One study found that high adopters of digital technology are seeing a revenue premium of up to seven percent, with IoT, AI and cloud technologies leading the way in terms of value realization.2
Cloud service providers, software vendors and integrators are building industry specific, cloud-based solutions to provide their customers with flexible platforms for growth. As these solutions continue to evolve, oil and gas companies have become more comfortable with retiring obsolete legacy systems in favor of "cloud-sourcing" platforms from external vendors to manage their operating processes. Oil and gas players are increasingly taking advantage of modular cloud-based business processes that are designed to evolve with their business strategy. Cloud technology is enabling companies to become more agile in the way they implement and maintain core processes, thus freeing resources to drive the strategic and technical innovation that will sustain competitive differentiation.
While core operating processes are moving to the cloud, technologies such as AI, data analytics, and IoT are helping oil and gas companies move from a business model driven by "personal heroics to engineered performance."2 Advanced analytics are reshaping operations and empowering more agile strategy development. Remote monitoring of assets, combined with predictive failure models, helped operations and maintenance (O&M) departments weather the lockdowns and resource shortages of the 2020 crisis. Data collected from assets is already transforming the oil and gas industry by supporting more informed operational and strategic decision making about an asset's lifecycle and ROI potential.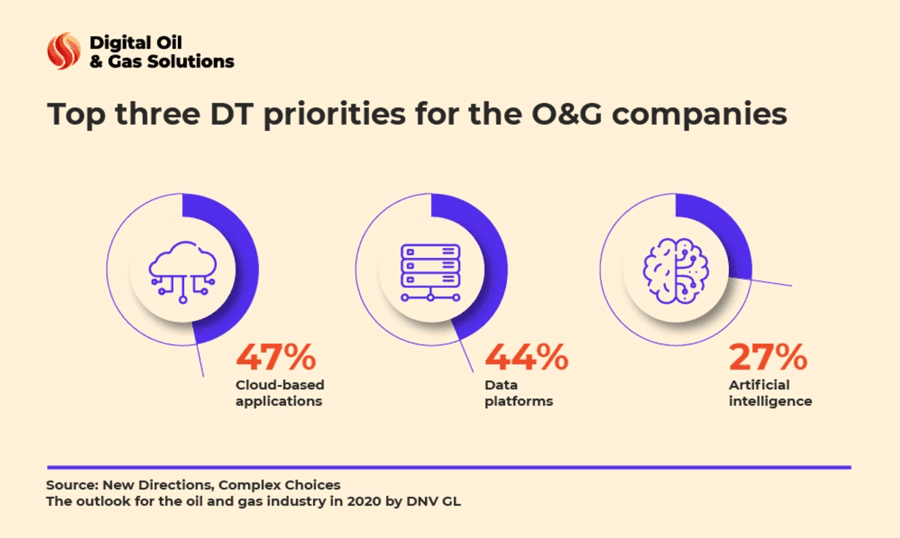 The improved cost efficiency and operational performance that fueled the oil and gas recovery in 2021 was enabled in part by the increasingly sophisticated ability to analyze and interpret asset performance data: According to analysts, the next step in this evolutionary process will be understanding how data can be used for "native machine consumption," so that it is not simply being used by humans to enhance decision making, but can be used by machines to make better, real-time decisions without human intervention.3
What can the oil and gas industry do to accelerate the pace of digital transformation, and ensure transformation is aimed at sustaining and powering strategic decision making?
1. Ensure strategy and innovation are a team sport.
It should go without saying, but it can't be stressed enough, how important it is for all organizational functions to have a seat and a voice at the "strategy table." For change to be transformative, it must accelerate technology and innovation across process flows. Business operating functions are inherently interdependent: Poor data quality or lack of automation in an upstream process will impede downstream organizations from executing successfully. It's important to create understanding and consensus across the organization for the strategic objectives and have a digital roadmap in place that addresses the role that each function plays in the successful execution of that strategy.
2. Make sure you have the right skills in place, inside and outside of your organization.
Almost 90 percent of oil and gas executives plan on continuing to grow their digital investments in upcoming years.4 However, 94 percent of oil and gas executives also say they are struggling to find workers with the right skill sets to execute their digital investment roadmap:5 Worker shortages, particularly shortage of workers with digital skills, are impacting all industries; by using a multi-faceted staffing strategy, oil and gas players can ensure they have the right talent in place to sustain their strategic transformation objectives. Companies need to start by investing the time to define and prioritize transformation objectives and the skills gaps that impede them from getting there. By using a multi-faceted strategy of retaining and retraining existing workers, strategically recruiting employees based on critical skills gaps and outsourcing digital work that does not align to strategic imperatives, executives can keep their transformation journey on schedule.
3. Don't be afraid to fail – and reward failure.
It may sound counterintuitive, but companies that make the most progress in their digital transformation roadmap are those that are not afraid to fail: The important thing is to fail quickly and learn quickly from the failure. Put in place cross functional, agile delivery teams that include operations and business resources and IT resources. Ensure that projects are properly funded, and that long-term objectives are clear. Most importantly, ensure that projects have short term milestones with measurable deliverables. Modernize performance structures so employees are rewarded for embracing agile execution philosophies, irrespective of the success or failure of an initiative. And, finally, move on from failed initiatives quickly, but don't forget to learn from failures and apply those learnings to the next round of digitization efforts.
Strategy and technology are converging like never before in the oil and gas industry: Cloud computing, combined with the power of data analytics and AI, is helping the industry to reinvent itself on a foundation of stable but agile processes and visibility to operations. Where this alignment between organizational and technology strategies is successful, it has the potential to change the speed and trajectory of innovation for the oil and gas industry, enabling not just today's strategy, but also helping sustain innovation in a continuously changing environment.
Footnotes:
1 COVID-19-19 and the future of business: Executive epiphanies reveal post- pandemic opportunities." IBM Institute for Business Value. September 2020. https://ibm.co/COVID-19-19-future-business
2 Payraudeau, Jean-Stéphane, Anthony Marshall, and Jacob Dencik. "Extending digital acceleration: Unleashing the business value of technology investments." IBM Institute for Business Value. October 2021. https://ibm.co/extending-digital-acceleration
3 Tech Trends 2021. " Oil and gas companies are using technology to recover and reimagine the future." Deloitte Development 2021.
4 Rachel Everaard. "Technology can light the way, but do you know where you're going?" EY Americas. January 2019.
5 Oil and gas Digital Transformation and the Workforce Survey 2020. "How do you reshape when today's future may not be tomorrow's reality?" September 2020. https://ey.com/oilandgas/digitalskills
Headline photo courtesy of Shutterstock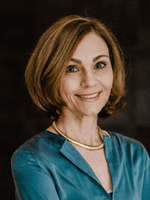 Sara Cerruti is a senior director of global customer transformation at ServiceMax. She has over 20 years of experience in driving business process optimization and digital transformation initiatives in industrial businesses, including oil and gas and energy. Cerruti combines Lean Six Sigma transactional and shop floor experience with business process transformation expertise to help customers achieve results by effectively leveraging technology to drive productivity and growth opportunities.
3 Ways Technology is Going to Shape the Oil and Gas Industry
Free to Download Today
Oil and gas operations are commonly found in remote locations far from company headquarters. Now, it's possible to monitor pump operations, collate and analyze seismic data, and track employees around the world from almost anywhere. Whether employees are in the office or in the field, the internet and related applications enable a greater multidirectional flow of information – and control – than ever before.