Alan Alexeyev: Tell us a little bit about your current (or latest) position and what you do, as well as how you found a job.
Alok Kulkarni: I am an integration project manager based in Houston, Texas. I work for Schlumberger, leading operations on deepwater well construction projects in the Gulf of Mexico. In this role, I am responsible for managing multiple business lines in order to deliver wells on time and under budget. One of my key areas of expertise is developing business synergies across multiple service lines, to reduce costs for customers and increase market share across the industry. I oversee a team of ten service managers and coordinators.
In 2005, I applied for a field engineer position in Mumbai, India. Earning the position launched my career in the oil and gas industry.
AA: What inspired you to start a career in the oil and gas industry? How did you decide to become a petroleum engineer?
AK: Growing up in India, I was always curious about energy and its economics. I had read about the revolution of the U.S. energy industry and that piqued my interest. My first encounter with oil and gas was as an undergraduate from Mumbai University in Industrial Electronics. I was excited to explore career prospects in the industry and, when I had an opportunity to visit an oil refinery as part of my university tour, that experience had a lasting impact on me. I was truly inspired by the scale of operations, and how the upstream industry managed the cyclical nature of activity. The technical and operational expertise, as well as the exposure to a multicultural world, encouraged engineers like me to be part of the oil and gas industry.
AA: You often meet workers in industry who do not have a formal college degree. In your case, how valuable was it to get the university experience?
AK: My university experience laid the foundation for my start in the industry. Key skills like teamwork, data analytics, troubleshooting and leadership were inculcated from my time at the university. These skills helped me immensely at the start of my career.  Leading projects in university prepared me to work in a team, which was essential for success. Data analytics and troubleshooting skills helped me solve some unique industry service quality challenges, with the systematic use of data for making informed decisions. This ultimately shaped my career in challenging global conditions.
AA: How did you find yourself transitioning from an academic environment to the industry/corporate? What would you tell people who are about to make such a transition?
AK: Transitioning to my professional career was indeed an exciting experience; getting through the rigors of an outstanding training program and meeting people across the globe was very fulfilling. The training programs were meticulously tailored to real life job scenarios, and this was furthered with on-the-job training with senior mentors. As I began my professional career, one of my key objectives was to absorb as much as possible and ensure smooth knowledge transfer. I would advise young engineers to learn comprehensively about the industry, understand its value and cost drivers, and challenge the young engineers to innovate and bring their unique perspective as they apply their training and university knowledge.
AA: Has the industry taken initiatives to smoothly transition young professionals into the oil sector? What, if anything, could be done better?
AK: To start your career, I think the industry has evolved over the years and has put in place a structural program to facilitate a smooth transition of young professionals. These programs have instilled confidence in young engineers and exposed them to new technologies. Mentor selections for young engineers are a critical step in this transition, and the industry does a great job in ensuring that the right knowledge systems and technical competencies are adopted and transferred. Along with technical competencies, the industry has great focus on health, safety and environment (HSE), which is a core area of the training and development phase. However, with many NOCs and IOCs adopting net-zero emission goals, there is still room for improvement, for the industry to communicate better to the young engineers, so that they are part of this transition. This will enable the oil and gas industry to attract the best talent across the globe.
AA: The oil and gas industry has tons of conferences and events. Have you attended any of them? If so, how useful do you find them and what's your takeaway from them?
AK: I look forward to oil and gas conferences and events every year. These are a great place to network with some of the talented people across the industry. I try to make myself available for events like the Offshore Technology Conference (OTC), Rice Energy and Finance Summit (REFS), and webinars presented by the Society of Petrophysicists and Well Log Analysts (SPWLA) and the Society of Petroleum Engineers (SPE). My takeaway from these events and conferences is looking out for some amazing solutions that are created to solve problems within the industry. These events provide me with a unique perspective on how technology, process and leadership has evolved over the years, but the objective of bringing innovative solutions has always been a common thread.
AA: If you communicate with students on a regular basis, do you think there's an increased or decreased interest among young people to have a career in the oil and gas industry, in comparison to the past?
AK: Over a period of time, the oil and gas industry has evolved so that we now have students coming not only from a traditional petroleum engineering background, but also from other disciplines. With the industry now focused on digitization, along with transitioning to other energy sources like geothermal, wind, solar, etc., we have students coming from various other competencies and disciplines, such as computer science, IT, renewables and more. Students still have the same passion for oil and gas as in the past; however, we, as representatives of the industry, need to do a better job in communicating how this industry has brought positive economic and social change in the cities where this industry has thrived. When students understand this message, and see themselves as part of the solution rather than a problem, we have seen their interests piqued to join this industry.
AA: What advice do you provide to students who have an interest in the oil and gas industry? Should they pursue the career during these constant downturns?
AK: This industry is very dynamic and challenging. However, this industry also provides you with a unique experience like no other. Imagine the experience a student will get by managing a cyclical business, where you need to dynamically manage costs and still drive value to your customers. I would encourage students to do some research on drivers of this industry. Students with a passion for the industry, who are willing to think outside the box, innovate and work as a team, will always have a fulfilling career in the industry.
AA: What technical skills do you think will be needed for the industry in the near term based on your experience so far?
AK: In the near term, data analysis, data management and automation are going to be the key skills that students will need to succeed. With the industry moving toward digitization, there is an effort to bring most of the operations and other supporting functions under the ambit of digital. A lot of resources are spent on non-value-added tasks which can be automated, and industry can shift focus on value creation. Leveraging digital skills will enable engineers and managers to make informed decisions in key areas such as risk management, career progression and operational efficiency.
Another near-term important skill would be sustainability. Sustainability is the effect our industry has on the environment and society, and how to make a positive impact on both.
AA: What would you like to learn in the near future from experienced people who are in their mid-to-late careers?
AK: I would like to learn how they managed the changing landscape in the industry. What are the key leadership and behavioral attributes they developed to be successful throughout their journey, while managing the various downturns and crises in oil and gas?
I believe crisis management and leading global teams remotely will be a few of the areas that I would like to learn about from colleagues who have this type of career experience. Managing the oil and gas business through crisis is one of the essential skills required to stay relevant in this industry.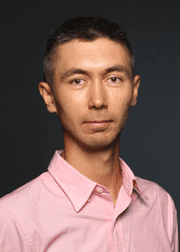 Alan is a graduate from the University of North Dakota with a Master's degree in Petroleum Engineering. He previously earned his BA in Mathematics from the University of Houston and a BS in Petroleum Engineering from the University of Wyoming. Alan is an active SPE member and has presented at petroleum conferences and exhibitions.
3 Ways Technology is Going to Shape the Oil and Gas Industry
Free to Download Today
Oil and gas operations are commonly found in remote locations far from company headquarters. Now, it's possible to monitor pump operations, collate and analyze seismic data, and track employees around the world from almost anywhere. Whether employees are in the office or in the field, the internet and related applications enable a greater multidirectional flow of information – and control – than ever before.