Land management is a crucial link in the upstream management chain because the health of every exploration and production organization depends on it. Landmen must move quickly during lease-acquisition phases if they want to secure the best leases in prime exploration areas. Traditionally, this process was slow and tedious, but because of technological advances and AI, it no longer has to be that way. Time is money. The work of a traditional landman is extremely labor intensive – physically and mentally. The amount of time and work put into land acquisitions and everything that goes along with it is major time and man-hours are expensive. Just think if E&P companies could manage their assets and streamline the processes of the land life cycle, giving them the ability to use technology to maximize efficiency and the advantage in an ever-evolving oil market.
P2 Energy Solutions
P2 is offering just that. They are the world's largest software and technology company dedicated to the upstream oil and gas industry, with solutions spanning the entire value chain from exploration to decommissioning. More than 1,500 companies use P2 products and services daily to improve decision-making, gain clarity into complex workflow scenarios, and optimize upstream efficiency.
History of Tobin
Founded in 1928 in San Antonio, Texas, by Edgar G. Tobin, the company began capturing and interpreting aerial photography to create detailed maps for the burgeoning Texas oil industry. By 1930 the company had already mapped over 3,000 miles of pipelines and numerous fields including projects in Mexico and Venezuela.
Tobin quickly established itself as the industry leader in spatial information management in the United States and has set significant milestones ever since. Acquired by P2 Energy Solutions in 2004, Tobin was and remains a trusted source for mapping and geo-spatial data services for oil and gas producers.
With Tobin's dedicated specialists, who have over 850 years of combined experience and a history of pinpoint accuracy, Tobin gives their customers the confidence to make decisions that impact their company's success. Fast, quality data delivery and user-friendly design lets oil and gas producers see well, lease, and land activity with complete clarity.
"Tobin has established a solid foundation of trust over 90 years and as part of P2 we continue to build the future with our customers," said J. Scott Lockhart, CEO of P2 Energy Solutions. "We are bringing new insights through machine learning, visualization, advanced analytics, and value-added solutions to meet the needs of the industry for the next century and beyond. We are just getting started."
Tobin Data Layers
Through Tobin Data, companies can obtain well, lease and land activity quickly and with pinpoint accuracy. Tobin data covers several layers.
The Survey layer offers the most comprehensive, continuous survey coverage in the industry, covering 1.4 billion acres, 65,000 townships and 300,000 original Texas abstracts. Within the survey layer, there are two types of grids.
The Jeffersonian Land Grid is used in 30 states across the U.S., including states in the Rocky Mountain region – home to many of today's hottest shale plays like the Bakken and Niobrara.
The Texas Land Survey Grid being the most accurate base available due to Tobin. It ensures that every line is verified digitally and visually. No matter where the work is taking place, every line of the map is remarkably accurate and aligned.
The Ownership layer allows companies to see who owns the surface rights for each particular parcel of land, giving them the detail needed to position their lease outlines and manage property assets. This eliminates the need to go to the courthouse to obtain any of this information. More than 200 counties are tracked, including 180 counties throughout Texas, Louisiana, Mississippi, New Mexico, Pennsylvania and Ohio. It also provides ownership data in 42 Oklahoma counties, two Utah counties and two New York counties. The Polygons calculate totals, volume, acreage and distance geographically with Tobin Data sets.
The Lease layer enables companies to see where competitors are leasing across the U.S. before leases expire. The interactive data shows critical insight into the mineral lease landscape enabling better business decisions. This ensures that companies can compete confidently in the hottest shale plays. Information can be obtained on 750,000 leases in more than 250 counties across the U.S. with coverage being constantly expanded by the day. Lease activity points are published on a nightly basis. All of the data is collected in person from the courthouse daily so companies can have confidence that they are receiving the most accurate and current data available.
The Well layer provides all the access companies need on oil and gas permits, completions, and plugs. It uses purpose-built accuracy software and a multitude of data sources, including high-resolution imagery, to hand-verify each well location. The well locations are digitized using a variety of sources by their expert geospatial mapping specialists. Locations are verified and adjusted using an array of mapping platforms, such as satellite imagery, digital ortho-rectified aerial imagery, GPS coordinates, well plats, line-calls from survey or public land grid systems and USGS topographic quads. Each well is digitized to specific criteria and hierarchies, and specialist then determine which digitizing platform best suits locating and mapping the well. Each location is supplemented by including a number of critical well attributes, such as well operator, lease, and product.
There are several risks associated with using free or low-cost location data.
Changing plans at the last minute for a well pad because your map data is off. Or worse: placing a well pad in the wrong spot.

Learning that the neighboring wells are closer or further than you expected.

Being forced to terminate a well on somebody else's property.

Drilling or starting production even though neighboring wells are not producing.

Not drilling a new well when neighboring wells are producing.
In addition to the information itself, one of the major benefits Tobin offers is the way in which it's delivered. Through their single file delivery, the data can be obtained within hours, instead of days. There is no stitching, joining or relating required. Employees can also monitor specific areas of interest and if anything changes, they would receive an email informing them of the change. This gives them the ability to constantly monitor and stay on top of anything that occurs, without having to always spend time checking on the status.
P2 is raising the bar with their land management software and AI. They are progressing quickly and efficiently while making positive growth changes. They are impacting one of the most critical parts of exploration and production, if not the most critical part – the land. Without the land and the plethora of information that surrounds the acquisition of it, there are no oil wells being built and no wells being built, means no oil is being produced. Land knowledge is absolutely vital to the success of this industry. What they are doing is a game-changer and hopefully they don't intend to stop any time soon.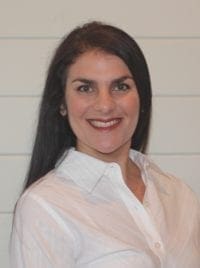 Sarah Skinner is a graduate of Louisiana State University with a degree in English. She has been a technical writer and editor in the oil and gas industry for over ten years in Houston and in Louisiana. She currently works as a technical writer for a pre-cast concrete construction company in Louisiana that builds blast-proof buildings for petrochemical plants. 
3 Ways Technology is Going to Shape the Oil and Gas Industry
Free to Download Today
Oil and gas operations are commonly found in remote locations far from company headquarters. Now, it's possible to monitor pump operations, collate and analyze seismic data, and track employees around the world from almost anywhere. Whether employees are in the office or in the field, the internet and related applications enable a greater multidirectional flow of information – and control – than ever before.