Several years ago, I had the opportunity of serving on an advisory committee appointed by the Mexico Trade Commissioner, who was based in the Dallas regional office. Comprised of U.S. and Mexico business representatives, the advisory committee focused on trade and tourism between Mexico and the U.S. One issue addressed by the committee was U.S. and Mexico energy relations.
Since 1938, Mexico has been under strict governmental guidelines with no privatization in place. As I stated in my book, The Braking Point, "the first sign of changing of the guard came in 1938 when Mexico President Lazaro Cardenas nationalized the nation's oil. Cardenas made this move to prevent further Americanization of Mexico. This move pushed all of the American oil companies out of Mexico." Seventy-five years later, in August of last year, President Enrique Pena Nieto proposed a plan to open Mexico's oil and gas sector to foreign investments through private-public partnerships.
Since that time, I was interviewed for an article in the Wall Street Journal's (WSJ) MarketWatch regarding the issue of why foreign oil forms should look to Mexico.
The following are some of the questions and answers discussed in that interview.
1) From an energy commodity standpoint, what does an open Mexico energy market mean – would opening that market up be substantial for oil or natural gas? How so?
Over the past several years, there has been an oil production decline in Mexico. The country has strong potential to enhance oil and gas production by the support of U.S. technology alone. With U.S. technology and expertise, Mexico and North America could potentially benefit in a very positive way. With that said, there are a lot of details to work out.
2) How long, realistically, might it take to get the proposal approved? What's involved?
Since the WSJ interview, Mexico's Congress has passed constitutional amendments overturning the nationalization of the oil industry. Introducing a private-public partnership is new to a country that has not allowed the needed expertise to advance the economic benefits. Therefore, many U.S. companies will be interested in the potential opportunities but with caution especially in the early stages.
3) How long before foreign companies jump in and how willing will they be to participate in Mexico? It appears that many U.S. companies are interested in the potential, but there has to be certainty of stability before they spend the billions of dollars necessary for oil and gas development.
4) Which nations or companies might benefit the most and why?
Service and supply companies in the early stages likely will benefit the most. There is a question to be addressed about whether only majors will be involved or if there will be opportunities for others to enter the market.
During the week of August 2nd, legislation was passed in Mexico's Congress which finalized the opening up of Mexico's energy sector for privatization. This legislation is welcomed by U.S. energy companies wanting opportunities in Mexico. Though the regulations surrounding Mexico's energy development continue to be worked out, there is definitely cautious optimism.
Infrastructure is very important to the success of Mexico's energy development. No doubt, it will take U.S. technology and expertise to move Mexico's energy development efforts forward.
I continue with the message that America Needs America's Energy. I have also advocated that the U.S. needs a secure neighbor in Mexico. Together, we can create the People's Energy Plan!
Go to www.peoplesenergyplan.com to join the effort of striving toward creating together the people's energy plan and visit America Needs America's Energy on Facebook.
Photo by Don Fink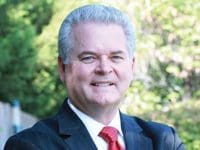 Mark A. Stansberry, Chairman of The GTD Group, is an award-winning author, columnist, film and music producer, radio talk show host and 2009 Western Oklahoma Hall of Fame inductee. Stansberry has written five energy-related books. He has been active in the oil and gas industry for over 44 years, having served as CEO/President of Moore-Stansberry, Inc., and The Oklahoma Royalty Company. He has served as Chairman of the Board of Regents of the Regional University System of Oklahoma, Chairman 2016-2017 of the Gaylord-Pickens Museum/Oklahoma Hall of Fame Board of Directors, Lifetime Trustee of Oklahoma Christian University, and Board Emeritus of the Oklahoma Governor's International Team. He has served on several public and private boards. He is currently on the advisory board of IngenuitE, Inc.
3 Ways Technology is Going to Shape the Oil and Gas Industry
Free to Download Today
Oil and gas operations are commonly found in remote locations far from company headquarters. Now, it's possible to monitor pump operations, collate and analyze seismic data, and track employees around the world from almost anywhere. Whether employees are in the office or in the field, the internet and related applications enable a greater multidirectional flow of information – and control – than ever before.